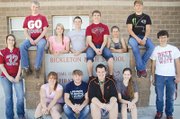 BICKLETON- They love all kinds of sports, four-wheeling, fishing and hunting and hanging out together. Nearly every one of the class holds fishing and hunting licenses.
They are the 12 members of the Bickleton High School class of 2013.
While all but three have attended all 13 years of school together, as a collective they are as tight knit as a family. Their high school classes are spent together, they lunch together, and even on the sports field, whether participating in track, basketball, volleyball or cross country, they are always within earshot of one another.
Come Saturday, June 1, the class of 2013 will be going their separate ways, but if history holds true, quite a number of them will eventually return to manage their families' business. But first they must go out and see the world.
Members of the 2013 graduation class are Amanda McBride, Daniel Clingan, Christian Mittring, Sierra Luther, Shauna Snyder, Mitchell Powers, Jamie Venema, Taylor Brown, Peter Clinton, Haley Goodnight, Justin Roberts and Joshua Cummings.
Peter Clinton and Joshua Cummings are class co-valedictorians. Clinton was recently selected as an alternate to the list of Washington Scholars from the 14th Legislative District.
His mother Kim (Naught) Clinton, a 1986 BHS graduate, was a Washington Scholar, earning a full ride to Washington State University.
These days, the Scholars program offers no scholarship, just bragging rights. But that is okay with Clinton, who plans to attend WSU to study mechanical engineering, specializing in aerospace design.
"I want to build planes and maybe someday work for Boeing," he explained.
Clinton's parents are David and Kim Clinton. His mother also happens to be a BHS math teacher. His grandmother, Judy Naught, is the senior class advisor and Bickleton School District financial administrator.
Like the other athletes in his class. Clinton has played basketball all four years of high school, and has been on the track team, where he has been a standout in the 100 meters, 200 meters and 400 meters events. During his high school career he has earned State meet medals in the pole vault, 100, 800 and 400 meter runs. He also went to state in his junior and senior years in cross country.
"My personal best in the 5K is 16:43," he said.
Like Clinton, Cummings holds a 4.0 GPA, and plans to attend WSU. However, Cummings plans to pursue a career in computer science.
"He is our 'go to' guy whenever anything technological needs fixing," said class advisor Judy Naught.
"I'm good with computers," he admits, noting that he'd like to be a software engineer following his college career.
Cummings has earned State meet honors in track and field events. He competes in the javelin, triple jump and 3200 meters, a run that took him to the State meet last year.