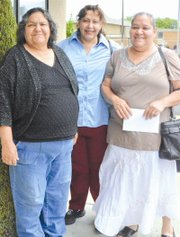 At 72-years-old Emelia Gonzalez-Rivera expected to live out the rest of her life raising her two grandchildren in her home.
Sadly, not everything in life goes as one would like and the family found itself temporarily displaced after a storm not long ago.
The home's foundation was crumbling and the basement had water in it after a storm.
City of Sunnyside officials determined the home was uninhabitable, forcing the family to find shelter elsewhere.
Gonzalez-Rivera said she began seeking help by first turning to Nuestra Casa, which assisted her by connecting her with other organizations in the community that could help.
She said the Sunnyside Ministerial Association and Grandview's Salvation Army helped the family with motel rooms for more than a month.
However, that didn't solve the issue of finding a permanent home.
The family was referred to Sunnyside Transformation Yakima Valley for further assistance.
The organization's executive director, Roberto Matus, said the other agencies were hesitant to provide Gonzalez-Rivera and her grandchildren with financial assistance.
"They didn't know her and they have to be careful about how the money is spent," he explained.
Sunnyside Transformation Yakima Valley agreed to act as a fiduciary agent, administering the funds that would be used to make Gonzalez-Rivera's home a place where she and her grandchildren could once again live.
Sunnyside Transformation Yakima Valley, said Matus, has been raising funds and enlisting the assistance of other businesses and organizations through its partnerships.
He said Sunnyside's B-7 Engineering has donated engineering services and helped develop plans to bring the home up to city code.
Integrity Restoration of Zillah has provided estimates for the materials needed, completed an inspection and provided other services to obtain building permits.
Another business, Affordable Excavation of the Tri-Cities, completed an inspection of the foundation to the home, which was constructed in 1951.
Gonzalez-Rivera said, "With Transformation Sunnyside's help I have hope that I will have my home back."
She has lived in the home for approximately 20 years and didn't know the foundation was compromised.
"My two grandchildren, who are 11 and 10, are eager to get back into our home as soon as possible," said Gonzalez-Rivera.
That has been the most emotional part of the ordeal for her...seeing the impact it has had on her grandchildren.
Filled with emotion, the 72-year-old woman expressed her hopelessness. "I feel like a speck of dust, floating all over...I feel unsettled."
Fortunately, Gonzalez-Rivera has the support of her daughter, Martha Rivera.
Rivera took her mother and two nephews in, giving them a place to live until the restoration of Gonzalez-Rivera's home can be completed.
"The situation is dire because she still has a house payment to make," Rivera said of the circumstances.
She said her home is filled with 12 people living there. The living room was transformed into living quarters for her mother and nephews.
"I'm enjoying my Mom's company...it's just overcrowded. We all understand we have to be patient," said Rivera.
Gonzalez-Rivera said, "I'm very grateful to all those helping me. They are working to get me back into my home...I'm thankful to Transformation Sunnyside for helping me through this process."
Matus said the goal is to have the family home by Thanksgiving.
Financial support is still needed and he said he is hopeful that the community will support the family by donating to the Restore Hope account at American West Bank in Sunnyside.
A receipt for the donation can be obtained at the Sunnyside Transformation Yakima Valley office for tax purposes. The office is located at 201 S. Seventh St. in Sunnyside.
Matus said there is also hope that local construction companies might assist with the effort.
For further information about the Restore Hope project, call 836-0115 or email s.bravo@styv.org.