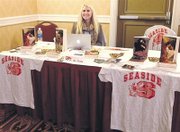 For the past eight weeks Rachel Van Dyken's The Bet has remained on the New York Times and USA Today bestseller lists.
The Sunnyside native's 17th book skyrocketed to No. 1 on the New York TimesBestseller list just two weeks after it released the last week of March.
The Bet is also in the top 10 on the Wall Street Journal's bestseller list.
But that success hasn't sunk in yet, according to Van Dyken.
She said she is astounded that The Bet, originally a self-published title, has done so well. When it was at the top of the New York Times list, it surpassed both paperback and e-book sales.
"There were only a limited number of paperback copies," said Van Dyken.
The book, she said, has been picked up by a publishing house since it was released. That means it will be available on the mass market by Christmas.
Grand Central, a division of Hachette, signed a contract last month for The Bet as well as another book she self-published at the beginning of April, Elite.
Van Dyken said the two books will have sequels, The Wager andElect.
She said she initially wrote The Bet with the goal of shopping the manuscript. She wanted a big publishing house to pick it up because her Indie publisher, Astraea Press, publishes a different genre with sweet romantic themes.
Several of the books Van Dyken had published by Astraea Press are set in the Regency era.
The Bet and the Eagle Elite series are more contemporary and deal with issues that don't fit within the guidelines set by the publishing house.
Hachette is known for publishing books written by James Patterson, so when the publisher's Grand Central division began calling Van Dyken she was excited.
"I like writing books with strong romantic themes, centered on tormented lovers and forbidden romance," said the local author.
She said the stories lead her and she doesn't like to plot them in advance.
The heroines in both The Bet and Elite are conflicted, having to choose between two men who seek to win their hearts.
The Bet focuses on Kacey, who is tricked into going home to Portland. The woman who has been like a grandmother to her feigns being ill.
Kacey is tormented by the past. Her parents died and "Grandma Nadine's" two grandsons, Jake and Travis, have caused her heartache at different stages in life.
She slowly discovers what she thought was her reality may not truly be. She gains wisdom and insight from Grandma, whom many Sunnyside residents may recognize as they turn the pages.
Grandma, you see, was inspired by Van Dyken's real-life grandmother, Nadine Lainhart.
Grandma, the one in The Bet, is sassy, classy and brazen, giving one opportunities to laugh quite a bit.
Elite is a different tale that can make a reader wonder if they should continue, but readers are drawn in despite the age of the main characters and the setting for the story.
Van Dyken admits many of her readers have shared their concern over the heroine's choice to subject herself to certain behavior.
The heroine, Trace, doesn't turn tail and run from what some might consider juvenile antics, the cruelty of others and dangerous situations.
The college she is attending is rather unique and sometimes seems more like a private high school campus.
However, the more one reads, the curiosity builds.
Van Dyken's success, partially, is because she has the ability to draw the reader in. She writes clearly and her words are concise.
She said self-publishing was risky, but she had built up a fan base for mature adult books after publishing another series, the Seaside Series.
"Elite was inspired by my husband, Nathan. He wanted me to write a book that had lots of intrigue and mystery," said Van Dyken, stating further inspiration came from a national news story involving a man who'd been hiding from the mob.
"I wanted to write something interesting and began asking 'what if'," she said.
After publishing Elite she found her fans behaved much like the fans of the Twilight books, choosing sides between Nixon and Chase, the two men vying for Trace's attention.
"That was never my intent," she laughed.
Grand Central came knocking on her door shortly after the book was released.
Van Dyken is pleased with her success, but it hasn't sunk in and she has already committed to publishing four or five more books by the end of the year.
On May 19, the third book in the Seaside Series was released. The sequels to The Bet and Elite are due out this coming fall.
"It still doesn't feel real," said Van Dyken, stating she believes "...it's the ultimate to reach number one on New York Times.
"I know one day it will hit me and I'll start screaming."
As for satisfying the fans, Van Dyken said, "Fans get crazy...readers get crazy."
She said she receives comments and pleas from those who read her books, many of which offer praise. They also want her to quickly publish her next release.
"I want to continue satisfying those who read my books," Van Dyken said, noting it isn't easy to write her books as quickly as the fans might like.
"I live and breath my characters....my stories develop as I spend time with them, living life vicariously through each person in the story," said Van Dyken.
She said, "I want to cry when they cry...I want to get angry when they are angry."
Van Dyken said experiencing the emotions for the first time with her characters makes each story more real for her.
Right now, she said, she is living her dream with the support of family and friends.
"It's just crazy how things exploded so quickly," Van Dyken said of her most recent success.