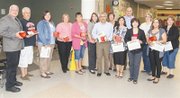 The Sunnyside School District honored its best and brightest this past Wednesday night with the Golden Apple Awards, presented annually to members of staff that demonstrate dedication to children and education.
A total of 15 awards were presented.
The volunteer award went to Teresa Medina, the Pioneer Elementary School migrant parent representative. Medina was honored for her countless hours of work both on special projects and assisting the administration.
The substitute award was presented to Sylvia Villagrana for developing a relational trust with her classes and holding students to high standards.
Two awards were presented in the secretary/office staff category.
Patty Osuna, the secretary at Harrison Middle School, was awarded the honor for her focus on solutions to problems.
Rosa Tiliano, the finance and operations co-coordinator at the district office, earned the award for 20 years of service to the district marked by going above and beyond her duties and being dedicated and dependable.
Two awards were also presented to support staff.
A cook at Chief Kamiakin Elementary School, Karen Clark, was honored for being a leader and team player. She also introduces children to new menu creations and keeps careful records to provide the best nutrition to students.
A custodian at Sunnyside High School, Wayne Miller's positive attitude earned him the award this year. Miller's recognition that his work impacts the learning environment of students motivates him and inspires others.
Two para-educators were also honored.
Martha Bright at Washington Elementary School was honored for being flexible and willing to assist. Retiring after 34 years, Bright also served as a role model for new para-educators joining the school.
Jackie Morrow at Sun Valley Elementary School was also honored for being dependable, trustworthy and knowledgeable of special education theories and practices.
The district also honored two specialists for their work.
Sunnyside High School counselor Diana Blumer Kilian earned the award for her ability to assist others in building leadership skills.
The psychologist at Pioneer Elementary School, James West, was honored for his instrumental role in helping students make progress both socially and academically.
Two elementary teachers earned the honor this year.
Kay Pettit at Outlook Elementary School was described as a miracle worker in her nomination. Pettit's ability and perseverance in helping students meet difficult goals was cited as the reason for giving her the award.
Joe Veloz at Pioneer Elementary School was given the honor for his quiet authority in the classroom and his ability to keep students fully engaged in activities throughout the day.
At the secondary teaching level, two Golden Apple Awards were also presented.
Harrison Middle School's Traci Wilson earned the award for 32 years of giving of herself and her heart to her students.
Nick Paulakis, a teacher at Sunnyside High School, was honored for his willingness to try new strategies to improve his teaching skills.
The administrator award went to Kris Diddens, the principal at Pioneer Elementary School. Diddens' strong leadership and use of data to develop teaching strategies make her a "world class" principal, according to school officials.