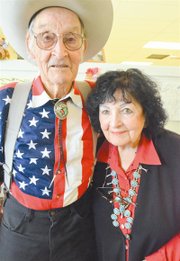 Local military veteran Delvin Householder participated in what could be argued as one of the most important battles of the Pacific campaign during World War II, the battle at Okinawa.
Over the course of 73 days, more than 7,250 U.S. soldiers died in "Operation Iceburg." However, the campaign led to the eventual defeat of the Japanese.
"Our unit killed more enemy in one day and more than in any other battle," said Householder, who was a member of the U.S. Army's 96th Infantry Division, serving as a combat infantryman sharpshooter.
Householder's story begins in Idaho, where he was born. His family, in 1934, moved to Wapato, and at the age of 19 he enlisted to serve in the Army.
That's how he found himself in one of the nation's most fierce military divisions.
The 96th Infantry Division, also known as the Deadeye Division, was known for its skill and precision with its guns.
Householder joined the division in Saipan in January of 1945. The division was in the midst of the battle of Leyte Gulf in the Philippines and he earned two battle stars for fighting there.
"That's where General MacArthur said, 'I came through and I shall return'," Householder said of the famous fight.
Because he was close to the machine guns and mortar fire, Householder lost the hearing in his left ear.
But, he soldiered on and the Deadeye Division moved on to Okinawa.
73 days of battle
Okinawa and the Ryukyu Islands were next to be defeated. Looks were deceiving on the first day, as Householder mistakenly believed his unit would be on Okinawa for just a week.
The Deadeye Division landed on Okinawa on Easter Sunday, which also happened to be April 1.
The landing was unopposed and a beachhead was established.
The division, two days later, advanced to Kakazu Ridge.
"There were miles and miles of tunnels," recalled Householder.
His division ultimately became trapped on the ridge and more than 150 men in the unit died there, leaving just 55.
Gunfire and mortar erupted around them, but at nightfall four days into their stand they were able to escape the bloodshed under the cover of darkness.
Navy Intelligence Officer Frank B. Gibney, on record, said, "For the next two weeks the war settled down to the most bitter, ruthless kind of hand-to-hand fighting, as GIs and Marines desperately tried to claw their way up heavily defended rocky escarpments.
"The advancing troops were exposed not merely to constant mortar, machine gun and rifle fire, but they took a pounding from General Wada's artillery.
"It was the worst fighting of the Pacific war, its sustained intensity surpassing event the brutal combat of Tarawa, Peleliu and Iwo Jima."
General Mitsuru Ushijima of Japan's 32nd Army had ordered his soldiers "to defend to the last man."
Householder said more than 250 tons of grenades were thrown during "Operation Iceburg."
Lt. General Simon Buckner was killed just six hours before the battle of Okinawa ended. Householder said a colonel also died on that final day, June 11, when Ushijima's defensive stronghold was taken.
The Japanese were burned out of the caves with streams of napalm.
Honoring the Deadeye Division
Householder said he was proud to be among the brave men to battle the Japanese.
He was awarded the Purple Heart after a mortar exploded in front of him, riddling him with shrapnel. Some of that shrapnel is still in his body.
"I still read a lot of lips," he said of his hearing loss, noting he is pleased technology has advanced so that he can hear better with the use of a hearing aid.
Householder was also the recipient of two Bronze Stars for his bravery and courage, as well as a double cluster.
Sadly, his medals have been stolen three different times.
In January 2001 the Deadeye Division became one of just four Army divisions awarded the Presidential Unit Citation for heroic action in WWII.
Life after the war
Householder returned to the Yakima Valley shortly after the war. His family settled on a farm near Sunnyside and he raised his sons Leroy and Alan, who both live here.
He grew grape, apple and cherry crops.
"It's all the good-eatin' stuff," said Householder.
In 1957 he stopped farming. He worked in construction and owned a barber shop that sat where Valley View Market is now located.
Householder, who was born in 1925, splits his time between Sunnyside and Ellensburg. "We have family in both towns," he said.
Householder, tearing up, credited his wife, Pairlee, and her patience for helping him share his story.
It has been with her encouragement that he joined the Disabled Veterans Association and another veterans organization in Ellensburg.
Householder said it is the interactions with fellow veterans that he enjoys.
Mrs. Householder said she encouraged him to share his story and to seek the recognition he deserved.
"He is my angel...he is the best person I know," she said, looking at him with adoration in her face.