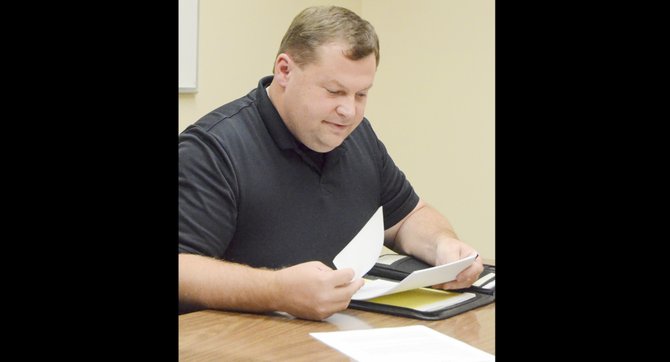 CORRECTION
In yesterday's (Tuesday) coverage of the Sunnyside Finance subcommittee meeting the $460,000 was the amount paid to the state of Washington for court fines collected by the city, not IRS fines and penalties.
Finance Director David Layden at last night's finance subcommittee meeting discussed with subcommittee meetings the 2013 budget report from Sept. 30.
The report, generated three-fourths of the way through the budgeted year, shows revenues are at just more than 78 percent of what was projected for the general fund.
Expenses are at nearly 82 percent of what was projected for 2013, but Layden said paying the IRS fines and penalties to the tune of $460,000 contributed to overspending the projected budget.
The city also made a third payment for a water and sewer bond. That payment was for 2012, which subcommittee member Jason Raines noted would have been recorded to the 2012 budget had the city been on an accrual-based financial system.
Layden said the city will this month receive property taxes recently collected. "That will help bring revenues closer to what was in the budget," he said.
What he is concerned about is the revenues for the water and sewer fund. Layden said, "Revenues aren't as healthy as projected."
Attempting to explain why the revenues are lower than anticipated, he said residents may not have watered their yards as often during the warm weather months.
"A rate adjustment may be needed," Layden told the subcommittee.
Raines noted a water rate study was contracted by the city, but results of that study have not been received. He said, "I am curious if some users are subsidized and believe users should be assessed at the cost of providing the product…are we billing them at a rate that makes sense?"
Layden also noted the 2013 budget for executive salaries has climbed to nearly 186 percent of what the costs were expected to be. He said that is because the city had expenses associated with former city managers and the new city manager's salary to account for.
Expenses for the police department were, as of Sept. 30, just below projections for the year at nearly 72 percent. Layden said there wasn't a police chief salary and the crime analyst position was vacant for a short period of time.
"Even with all the overtime everyone has been worried about this is good news," said subcommittee member Dean Broersma.
Layden said he added a little extra to the proposed 2014 budget for police overtime.
"At the end of the year, the city should be within range of its budget," he said, noting he has built into the 2014 preliminary budget conservative figures to prevent over-projections. He said he also would like the city to build a reserve general fund balance of approximately $4 million.
‑ Jennie McGhan can be contacted at 509-837-4500, or email JMcGhan@DailySunNews.com