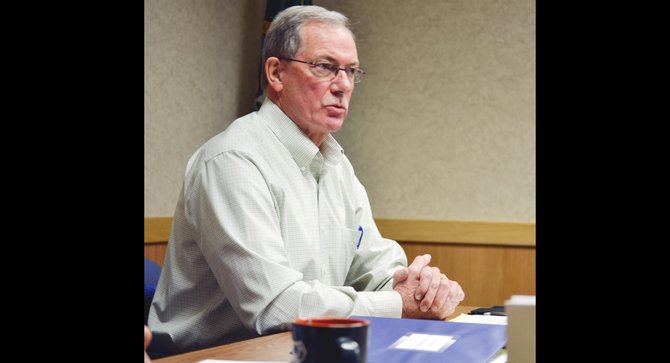 Following their regularly scheduled meeting last night, Monday, Port of Sunnyside commissioners held a special meeting this morning to approve a budget and wastewater treatment rates for 2014.
The 2014 budget approved this morning calls for general fund expenses of $3.7 million, up from $2.5 million budgeted for this year.
The general fund primarily covers day-to-day expenses, and Finance Director Carol Carter says the main factor in the fund's increase is the anticipation of possible land sales.
"We have to do a zero-based balance and if we sell a bunch of land we do have to show an expense," Carter explained this morning. "We hope to have some land sales and some projects to go with those sales."
Back in August during a preliminary budget meeting with port commissioners, Carter noted the Port of Sunnyside had received more inquiries regarding the availability of port property for sale.
The 2014 budget also calls for setting aside $7,000 for funds to hold a celebration of the Port of Sunnyside's 50th anniversary.
The port's other significant budget each year is its industrial wastewater plant fund. That figure is pegged at $4.4 million in 2014, up by about $260,000 from this year.
Among improvements plan-ned for the plant next year is a new anaerobic digester that will double wastewater processing capacity of the port's sequencing batch reactor.
In related action this morning, commissioners approved a new series of rates that Port of Sunnyside wastewater customers will pay in 2014.
Generally, the rates are little-changed from 2013, with the operating charge actually decreasing by a dime to $1.66 per 100 cubic feet for all wastewater delivered next year.
Of the 10 rates the port assesses wastewater treatment users, only four will actually increase. The largest will be for an anaerobic debt rate that rises from 88 cents per 100 cubic feet to $1.08.
In other budget-related action this morning, Port of Sunnyside commissioners approved a 1 percent increase in property tax levies, adding an additional $5,408 into the port's coffers for 2014.
- John Fannin can be reached at jfannin@dailysunnews.com