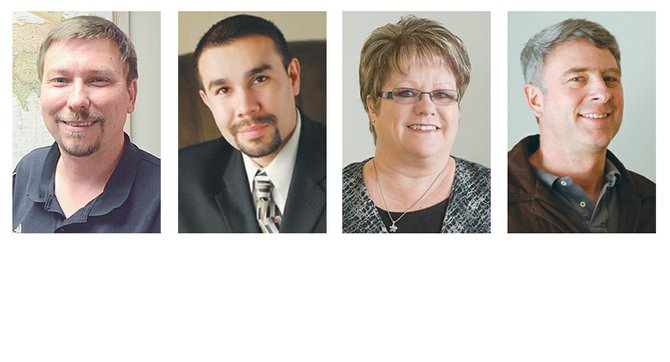 Three of four Sunnyside City Council officeholders appear on track to keep their council seats for the next four years following the first General Election returns released last night.
The only one of the four challengers on top as of last night's count was Spencer Martin with a 490-to-335 vote lead over Don Vlieger for the Sunnyside City Council, District 3 seat.
As of Tuesday night's count, District 4 councilman Francisco Guerrero is cruising to the largest margin of victory in the four council races with a 606-to-128 advantage over write-in challenger Ardell "Mac" McNearney, who took the one-sided loss in stride.
"I think I'll just be me and let it go," he laughed. "I didn't really think people knew me that well and it's fine," he added of the loss. "I'm not really tore up about it."
Guerrero, appointed to the council post earlier this year, says his background in financing may have been a factor in Sunnysiders voting for him. His goal for the next four years, he added, "…is to get us in a good solid foundation and the reserves that we need. We need to get our general fund healthy."
In the District 1 city council race, incumbent Theresa Hancock staked out a 465-to-347 vote advantage over challenger Robert Perales according to Tuesday's first count.
"I felt the community backed me like never before, offering their help and time," said Hancock.
It's a far different situation than her last run four years ago, in which Hancock trailed challenger Jason Raines by a single vote before rallying for a win.
"I think it was the negative campaigning," she said of her improved election night showing this time. "We're all neighbors and friends and I don't think people liked it."
Hancock added, "The community knows better than to think I don't like the police."
While noting the importance of police and emergency services, Hancock says her goal moving forward is for the city to have financial stability and economic development.
Her challenger, Robert Perales, was one of four candidates backed by Parkland Homes owner Wayne Overland in a series of newsletters that portrayed some candidates, including Hancock, as "hating" the police.
Perales says he's not sure if the newsletters hurt or hindered his campaign. But he is sure that he will try again for Sunnyside City Council.
"I think it's safe to say congratulations to Theresa but I will give it another shot," he said.
Perales says he is pleased to garner 42 percent of the vote against Hancock, noting he is a first-time candidate against a two-time incumbent.
His focus throughout the campaign was public safety, especially police funding.
"There's is a segment of the voting population that thinks emergency services should be maintained," he said. "Hopefully the percentage (of votes) is close enough for her to understand that as well."
The fourth Sunnyside City Council race on yesterday's ballot was for the District 2 seat held by appointee Dean Broersma. As of last night, he led challenger Sam Ramirez by a vote count of 533-to-288.
The Yakima County Elections Department will release updated ballot counts every day at 4:30 p.m. The election will be certified on Tuesday, Nov. 26.