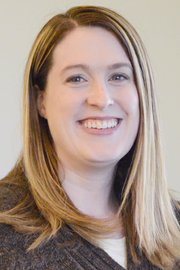 Age: 30.
Spouse: Bobby Curfman.
Children: Tyler Ann, 5; R.J., 4; Ava, 2.
Occupation and place of work: Stay-at-home mom.
My favorite part of the Yakima Valley is… All the agriculture that we are surrounded with.
When I was a child, I wanted to grow up to be... a mom.
First job I ever had was… a file clerk at Martin & Rodriguez Dental Center.
If a movie was made of my life, the actor/actress I'd want to play me is... If she was still alive, Audrey Hepburn, but, modern day, Amy Adams. She seems she could portray all the serious and funny parts of my life.
The best gift I ever received was... my husband. He and his family are the best gift God gave me.
The best piece of advice I ever received was... any advice my mom has given me is gold, and "Put God first."
My favorite dessert is... the black tie mousse cake from the Olive Garden.
One of my most memorable moments, besides getting married or having children was... seeing my brother on stage after I won Miss Sunnyside with his arms up like I made a touchdown. It didn't hit home that I had won until I saw him.
If I could witness any event past, present, or future, I would want to see... the day my parents met. I want to witness how their 40-plus years of love started.
I'd love to learn how to... sew and speak German and Russian.
The furthest I have been away from home is when I went to... North Carolina to visit my brother when he was stationed at Fort Bragg.
My favorite leisure activity or hobby is... making crafts. I love to make wall hangings and ornaments.
If I didn't have to worry about money, I'd spend my time... traveling the world with my family, visiting amusement parks and spas.
The one word that best describes me is... maternal.
If I could change one thing about myself it would be... nothing. I wouldn't be me without all of my quirks.