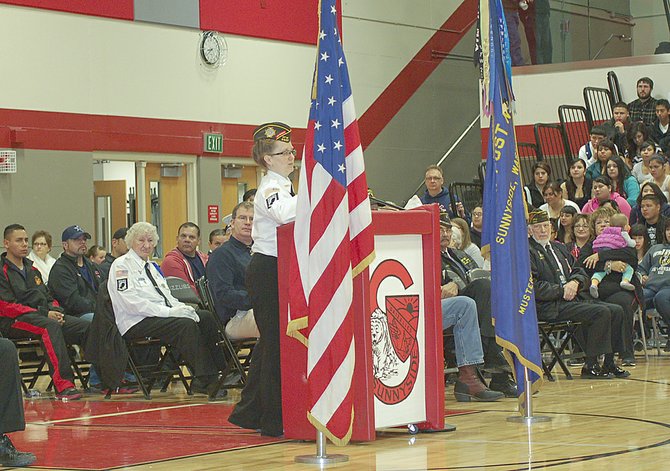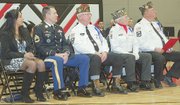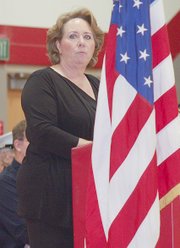 "We appreciate it when you say thank you for our military services," Delessa Restucci, a retired U.S. Army Reservist, told the Sunnyside High School student body at a special assembly yesterday (Wednesday).
"Your thanks sometimes bring us to tears," the 1986 SHS graduate said. "And, while we all have made many sacrifices, we knew we were doing our duty."
Restucci, who served in the Gulf War, spent 17 years in service to the nation, after enlisting in the U.S. Army while still in college.
She told the assembled students she had served as a tank mechanic, a crane operator, an art illustrator, and even worked in administration for an engineering unit stationed in Germany.

"When I signed up, I knew there would be sacrifices, but like most of us before you, I didn't know just what those might be."
Restucci, who now is a member of the local VFW post, serves at its first female quartermaster.
"We are so proud to have served and to be able to continue to serving our community, our country and our comrades," said Restucci. Currently, Restucci uses many of her skills gained while in the military as a local graphic designer and accountant.
Also speaking at Wednesday's veterans assembly was Sunnyview VFW Post #3284 Commander Bill Ingram, who told of leaving his home in the Bickleton area at the age of 20 to serve in Vietnam. After a two-year stint in the U.S. Army, he recalled returning stateside to a hostile nation.
"Two years later when I returned home, only my family was there to welcome me home," he said. "Veterans weren't welcome anywhere," he added.
"It makes me very happy to know that today's veterans are treated with the respect they are due after having served our nation," he added.
As part of Wednesday's program, a $2,043 check was presented to the local VFW post to be used for veterans and their families.
Presenting the check to Ingram was Sunnyside High School senior Anthony Chavez, who helped organize a Wounded Warriors project basketball benefit, which was held a week ago at the high school gym.
"Thank you all on behalf of our warriors for this donation," said Ingram.
Also as a part of the morning salute to the community's veterans, the high school leadership class presented each of the veterans present with a red rose as a thank you for the men and women's services.