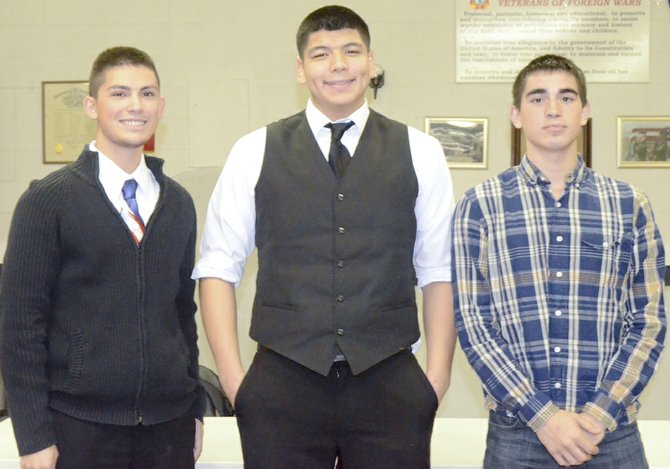 This past summer five young men from Sunnyside attended the Evergreen Boys State convention with the support of the local American Legion post.
Last night (Monday) three of the students from Sunnyside High School shared their experiences with the post members at their monthly meeting, stating they don't have any plans to run for political office…yet.
Hank Fairbairn, Elijah Pena and Victor Ramos said they appreciated the support of American Legion Post #73.
They said they have a greater understanding of government because of the experience.
Fairbairn said, "I learned it takes a lot of hard work to run a government."
Pena agreed, stating he realizes now there are a number of steps to be taken if one is to seek political office.
Ramos, while at Evergreen Boys State, campaigned for county council. He said he learned developing relationships is important. Those relationships, he said, can help a campaign's success. Relationships, too, can be useful when attempting to pass legislation.
When asked what advice the youngsters would give anyone who plans to attend Evergreen Boys State in the future, Fairbairn said he would suggest future attendees be prepared for long days.
All three said those attending also need to realize the importance of being willing to socialize with others.
Pena said, "There are boys from all across the state. They have many different backgrounds and it is interesting to learn about who they are."
Ramos said, "You have to be well-rounded…social skills are important."
He said his "city" group has continued to develop the relationships they built this past summer. They have established a social media group to keep in contact with one another.
Ramos said he learned much about campaigns and politics from the various seminars he attended. He said it provided him greater insight into the political world and he feels he better understands how government works because of the seminars.
When Legion member Leroy Werkhoven asked the teens whether or not they have given any thought to serving in politics, the three SHS seniors said they had not.
Pena said, "A lot of what I experienced helped me learn about positions within the government." He said that helped him understand to whom citizens should speak on specific concerns and issues.
The youngsters all indicated they feel they are better informed and could help someone who had an issue that needed to be addressed, saying they feel they have the knowledge and understanding of which branch of government would best be able to address the issue.
Evergreen Boys State will not take place on a college campus next year. The young men were asked if they feel that will impact the experience for attendees. The boys said it was interesting to be on a college campus, but they do not feel it is a major factor.
Most important to them, said Ramos, was gaining a greater knowledge about government and building relationships with others.