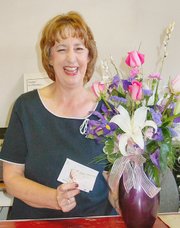 The public is invited to a festival featuring Filipino food on Sunday, Nov. 17, from 1 to 4 p.m. at the Navarro Community Center in Sunnyside. The monies generated from the fundraiser will be used for the Sandra Lee Pascua Scholarship Award.
The scholarship is in honor of Pascua, who taught at Sun Valley Elementary School before passing away after an extended illness. The scholarship was established by the Rey Pascua family and friends in conjunction with the Sunnyside Dollars for Scholars Foundation.
The fundraiser meals will include pancit (pan fried noodles), lumpia (Filipino spring rolls), chicken adobo, stir fry vegetables, steamed rice, dessert and beverages. The cost is $15 per person or $25 per couple. All proceeds will go to the Sunnyside Dollars for Scholars Foundation.
Tickets can be purchased at the door. During the the meal, Filipino folk dances will be performed by Batang Wapato and the Tri-Cities Filipino Folkdance Group. A Tae Kwan Do self defense team will put on a demonstration and the Sunnyside High School dance team will also perform to honor Pascua.