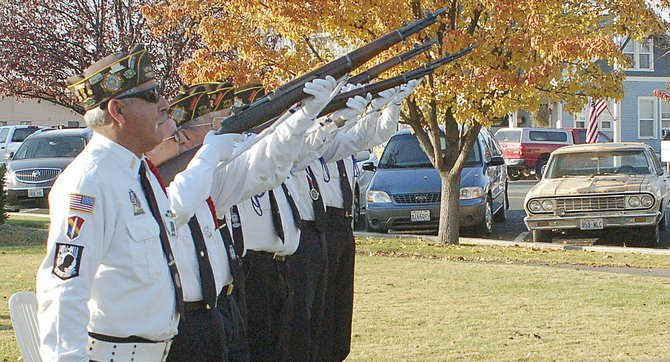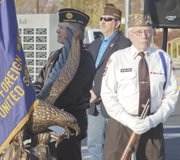 On Nov. 11, 1917, Sunnyside held a 12-hour bash - complete with a parade, booze, marching bands and celebratory gunfire – to mark the end of World War I.
On Nov. 11, 2013, Sunnyside held another celebration – though much more subdued – to not only mark Veterans Day but to announce a $65,000 state grant to complete the foundation of the city's Jerry Taylor Veterans Plaza.
The announcement was made by Sen. Jim Honeyford during a program yesterday, Monday, at the veterans plaza.
Greg Schlieve has long been an advocate for the plaza and said the state money means the plaza will next spring and summer be able to have new curb, gutter, sidewalk and asphalt for the block-long memorial on Ninth Street between Edison and Franklin avenues.
The infusion of state money will also allow for the purchase and installment of two black, granite marble markers inscribed with the name of every Sunnysider killed in action.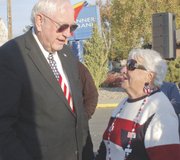 "It's a real relief. I can really see people wanting to be a part of this," says Schlieve. "It's a big deal."
Sunnyside Mayor Jim Restucci noted yesterday's announcement was the most recent of a number of instances over the past few years of state and national attention for the plaza, including a visit three years ago by Gov. Christine Gregoire's husband, Mike.
Honeyford (R-Sunnyside) chairs a capital projects committee in the state Senate and apportioned the $65,000 for the Sunnyside veterans memorial. "In Olympia that's not a lot of money, but it makes a big difference here," he said.
Honeyford has helped procure funding for other capital projects in the Sunnyside area, such as the YV-Tech building now under construction.
But the veterans plaza is unique, a living legacy to those who have served or are serving in the military. "I'm kind of proud of this," Honeyford said of being able to steer state funds for a local project that has been years in the making and is also relying on private funds to purchase individual plaques on a series of granite markers.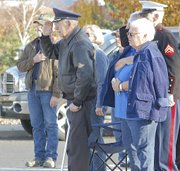 The plaza is named for Jerry Taylor, a former mayor of Sunnyside. His widow, Joyce, was on hand for yesterday's ceremony. She squeezed Honeyford's hand, thanking him for the money.
"He'd (Jerry) be so proud," Joyce said later. "He wanted a place like this for all veterans, not just those who served in war."
Honeyford's announcement capped a 30-minute ceremony yesterday that attracted a crowd of about 100 people to the sun-splashed plaza.
"Well, it's been a good day," said Les Amundson, a long-time Sunnysider and World War II POW survivor. On hand for yesterday's festivities and big announcement, Amundson said of the plaza, "It's good and it's going to get better."
Amundson and son Max also expressed appreciation for Schlieve's efforts on behalf of the plaza and Sunnyside's veterans.
In comments during yesterday's service, Schlieve said he was fascinated by Sunnyside's history and the great lengths it went to in throwing a party to celebrate war's end in 1917.
"I thought, now there was a town that was really grateful for the end of the war."
Thanks to Schlieve, Honeyford and many private donors, Sunnyside has yet another reason to be grateful.