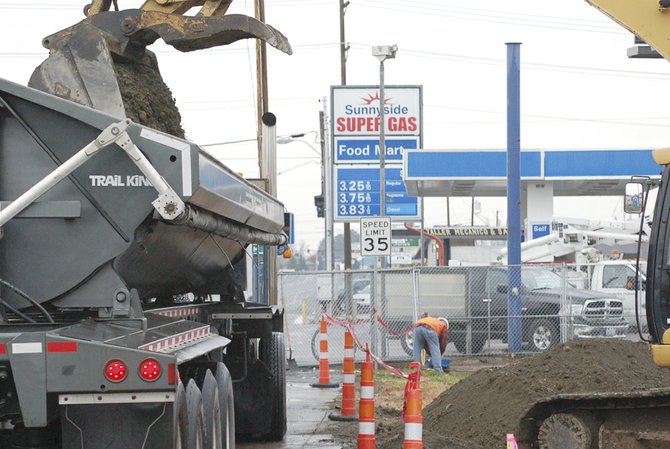 In 1989 the Washington State Department of Ecology began initial clean-up efforts of petroleum products found to be leaching into the soil at the corner of Yakima Valley Highway and Sixth Street in Sunnyside.
That clean-up effort continued on Tuesday as Clearcreek Contractors and Arcadis Engineering excavated a plot of land at 604 Yakima Valley Highway.
The clean-up effort was called Manhole 34 because contamination was first discovered near that particular manhole by the Sunnyside Fire Department after a complaint of a gas smell was made by owners of the Sunnyside Motel.
In 1993 Anita M. Burke of Texaco Pacific Northwest Environmental Services assured the Sunnyside City Council there wasn't any reason for alarm. "We don't believe there is any public health risk," she said.
Joye Redfield-Wilder of the Washington State Department of Ecology yesterday (Tuesday) said the current clean-up effort is voluntary.
"This is a long-standing, ongoing clean-up that includes several sites," she said, stating the current effort is a clean-up of contaminated soil near the original site.
"The floating product was vacuumed up earlier and the residual is naturally attenuating…removing the soils is an effort to get rid of the residual source of contamination," said Redfield-Wilder.
The voluntary clean-up application was submitted last year by the property's owners, listed as La Mas Baratas Properties on the Yakima County Assessor's Office website.
Redfield-Wilder said clean-up of any contaminated soil on the property must be completed if future development is to occur there.