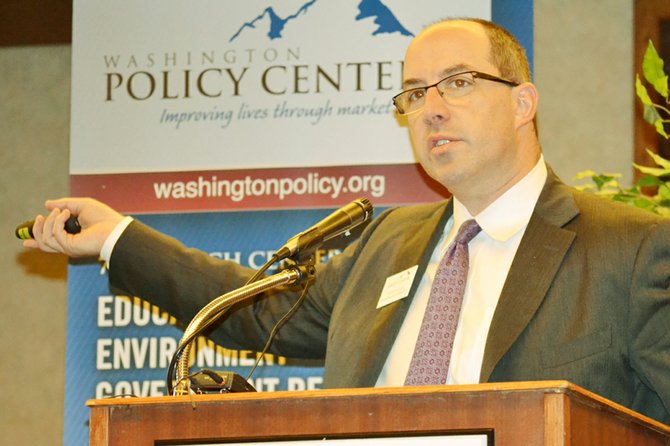 PASCO – It's all well and good to buy produce grown nearby, but is it worthwhile if it's causing a food shortage on the other side of the world?
That's the conundrum facing society, according to two presenters this past Tuesday at the Solutions Summit held in Pasco.
Todd Myers is the environment director for the Washington Policy Center, which hosted the summit, and he says examples are starting to surface of well-intended efforts on behalf of the environment gone awry.
"We all have an incentive to preserve the environment,' said Myers. We want to feel we've done something good for the planet and sometimes we get fooled."
He says it comes down to "trendy environmentalism" that is having unintended consequences.
As examples, he noted that new school buildings supposedly "green" or environmentally friendly are now being found to consume more energy.
Even worse, he says, corn-based ethanol is now wreaking havoc on the environment. He pointed to an Associated Press story just this week that noted corn-based ethanol is causing soil erosion and use of more greenhouse gases due to a spike in production.
Myers says there are also on the market a number of products "…to make you look green even if they aren't."
Dr. Steven Sexton is an assistant professor of agricultural and resource economics at North Carolina State University, and he calls the trend "conspicuous conservation."
He says the drive to grow and buy produce on just a local basis is part of a food fad that will "imperil the planet and the poor."
Sexton contends that a focus on only locally grown produce will require more land for farming, at reduced yields.
"Consumers think they are helping the planet by buying local, but it isn't necessarily good for the environment," he says.
At the same time, Sexton predicts the local movement will spike prices for basic food commodities.
He says it all contributes to a looming hunger issue for the planet, as the world population is expected to jump by 2.2 billion by 2050.
That will be compounded by the fact that as poorer countries become more affluent there will be more demand for vehicles. "By 2035 there will be 1.7 billion vehicles, that's double the number today," asserts Sexton. He says most of those cars will use biofuels, which will only increase demand for land to grow corn for the fuel.
"Agricultural production needs to double by 2050," Sexton says.
With a looming population boom and land shortage for farming based on current practices, Sexton says an answer can be found in the much-maligned genetically modified foods, commonly known as GMOs.
"Every trusted scientific organization has told us that GMOs are no more risky than foods grown with conventional methods," says Sexton. "I trust the World Health Organization, I trust the National Academy of Sciences, I trust the FDA."
He says GMOs greatly increase the crop yield per acre, reducing greenhouse gases and requiring less land for production.
Sexton says consumers have been taught to fear GMOs and noted that initiatives like the one which recently failed in Washington state to label GMO foods is reducing the amount of research and work to improve GMOs.
"Consumers are fearful of this technology," he said, noting only one-in-four believe that GMOs are basically safe.
Sexton was careful to note that there's nothing wrong with supporting a local farmers market, but wants consumers to just be aware of the implications of a focus on just locally grown produce.
He also encouraged consumers and voters in the future to keep in mind that food safety and environmental action groups require issues to campaign against in order to sustain their support and donations.
"I'm not suggesting they are disingenuous," Sexton said of the groups.
"But it's important to know the incentives they have," Sexton added.