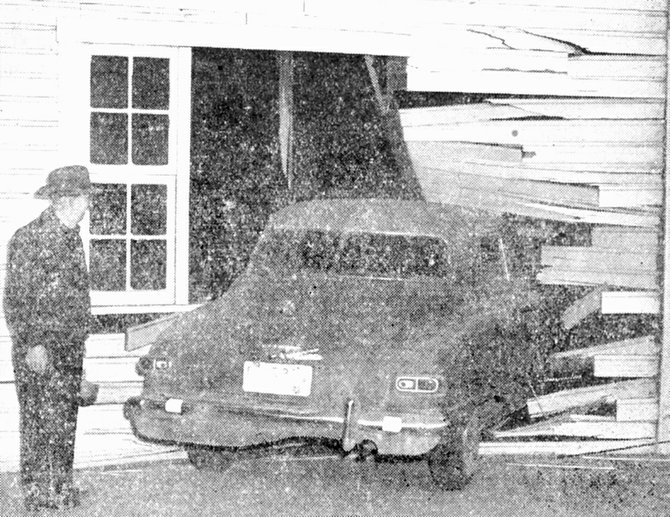 110 YEARS AGO…(1903)
A citizen's caucus was held in Sunnyside. A full ticket was nominated and the platform included an adequate drainage system and no saloons in Sunnyside. H.H. Wende was nominated for mayor, W.B. Cloud, E.J. Young and Elzy Dean were nominated for councilmen and L.E. Johnson was nominated for treasurer.
90 YEARS AGO…(1923)
Caroline Paul of the Sunnyside National Bank listed 150 checks in two minutes and 30 and a half seconds, only 12 and a half seconds slower than the world record for the task. The effort was part of a contest at the chapter meeting of the American Institute of Banking in Yakima and was done on a Burroughs electric adding machine.
80 YEARS AGO…(1933)
Joe Scroggs of Sunnyside was elected vice president of the Yakima Valley Club organized on the campus of the University of Washington in Seattle. The club's goal was to promote the valley on campus and to promote the school in the Yakima Valley.
Classes at the school in Bickleton were temporarily suspended when an airplane landed in A. D. Mason's wheat field. The pilot, a man from Toppenish, was a dinner guest of Milner Larsen.
70 YEARS AGO…(1943)
Sunnyside was lagging behind all the other towns in the valley with only $3,300 collected for the Nation War Fund Drive. The goal was set at $8,000.
The Kadaeluta Camp Fire group of Sunnyside elected Barbara Kingman as the president.
60 YEARS AGO…(1953)
Senior Don Sayler ran for a touchdown in his final game at Sunnyside High School. The Grizzlies beat Prosser 19-13 and ended the season in third place in the league.
40 YEARS AGO…(1973)
George Potter, Sunnyside High School head football coach, was named coach of the year in the Mid-Valley's AA League. The Grizzlies finished the regular season with a 9-1 record.
Doug Seeback of Sunnyside won the 1973 cross-country state championship. It was Seeback's second year participating in the sport.
30 YEARS AGO…(1983)
After all absentee ballots were counted, Roy Anciso was declared the winner in a closely fought election against William Timmermans. The two were competing for the Sunnyside City Council seat vacated by Homer Waller.
20 YEARS AGO…(1993)
Sunnyside School Board Director Joe Herber and Sunnyside Schools Super-intendent Mac Chambers traveled to Spokane for an all-day seminar on future changes in technology.
10 YEARS AGO…(2003)
Sunnyside High School students Robert Grimmer and Abigail Anderson had the lead roles in the drama club's presentation of Agatha Christie's "The Mousetrap".