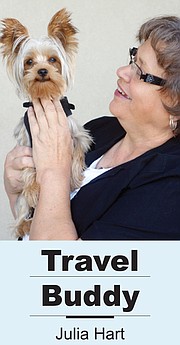 Buddy and I were discussing putting up a few Charlie Brown-type Christmas lights this year to celebrate his first holiday in the Hart household.
I don't think he quite grasps the idea yet, but he is, as always, very enthusiastic.
On a recent drive through downtown Sunnyside, I attempted to explain to Buddy about window lights. He immediately noticed there are a lot of dark windows along South Sixth Street and even more unlit areas on East Edison Avenue.
I tried to reassure Buddy that once Centennial Square is decorated for the holiday it will be a lot brighter in the core of town.
Buddy, in his usual manner, wondered if the store owners were planning to light their windows for the community's now nationally famous farm implement parade. He is certainly in favor of holiday lights.
I think Buddy is also hoping that the owners of the empty stores will string a few Christmas lights in their store front windows if only to showcase potential retail space availability.
More importantly, Buddy seems to be wondering if those businesses currently open for business will extend their store hours to be open before and after the parade.
I think he is hoping some nice retailer will offer visiting canines a holiday doggie treat while waiting for the parade to begin. After all, Buddy's canine cousins might enjoy a nice treat while watching the more than 70 bright and shiny farm vehicles passing in review.
It makes sense to me for store owners to put on their holiday best and to extend their hours for what locals claim will be potentially the largest crowd downtown Sunnyside sees all year.
According to our friend Pam Turner at the Sunnyside Chamber of Commerce, there is a potential for 30,000 visitors to line the streets of Sunnyside on Saturday, Dec. 7.
Knowing Buddy as I do, he thinks it would be a shame if the local merchants throughout the community didn't at least attempt to capture some of the untapped tourist dollars.

Buddy, I'm sure, thinks it might be nice if the merchants offered light refreshments and maybe a few shopping discounts at their stores. He is very much in favor of local restaurants offering after-parade dining specials.
He knows he is guaranteed a meaty treat if I have dinner out.