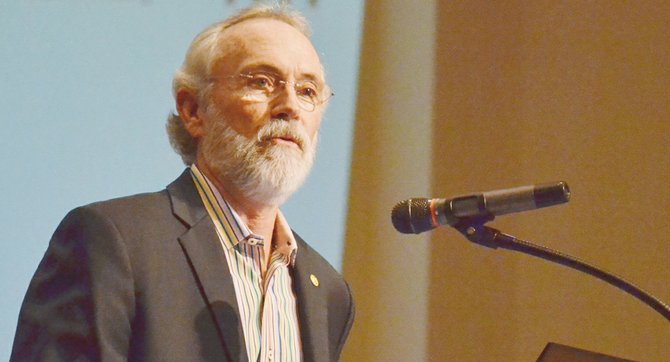 GRANDVIEW – Sunnyside area farmer Dan Newhouse voted for a Boeing incentive package back in 2003 when he was in the state legislature.
Newhouse, who left the state house to serve four years as director of the state's Department of Agriculture, says he would have joined lawmakers in doing the same thing last week on behalf of the aerospace giant if he were still a legislator.
Yesterday, Thursday, he told the Washington State Grape Society's annual gathering in Grandview that it's time for the state to consider help for the ag industry, too.
"They get how important aerospace is but there's a gap," Newhouse says when it comes to the rest of the state realizing ag's contributions to the state economy.
In a keynote speech yesterday morning, titled "General State of WA Agriculture," Newhouse identified some of those benefits:
Half of the nation's Concord grape crop is grown here in Washington state, according to Newhouse.
Washington state's ag industry employs about 160,000 people, says Newhouse, and contributes an estimated $40 billion annually to the state's economy. "It's fully as significant as the aerospace industry," he adds. "Agriculture is a stalwart of our state economy."
For the Yakima Valley, in particular, the ag industry has provided economic stability. "We didn't experience the big dot com boom, but we didn't see a bust," Newhouse says. "Stability is also a good thing."
That's not to say there aren't challenges facing the state's ag industry.
Newhouse said the prospect of rising gas taxes will impact agriculture's bottom line. He notes there will also be pressures in terms of labor due to lack of immigration reform in Congress and movements to increase worker pay.
He added there is always the threat of a drought hampering crop irrigation, noting the state is one bad winter away from another low-water summer.
There is also a battle in terms of western Washington perceptions of agriculture. According to Newhouse, some lawmakers from that part of the state want to generate more tax revenues from the farm economy. Pointing again to Boeing's benefits in Olympia, Newhouse says ag should be treated just as fairly.
He says the public perception, again primarily in western Washington, about GMOs is also a hurdle for ag. That was most recently seen this month in the unsuccessful battle for a state initiative to label GMO foods. "I apologize for being in your living rooms every night," Newhouse laughed, a nod to the frequent rotation of TV commercials against GMO labelling which prominently featured him.
Despite those challenges, Newhouse told the grape gathering that state ag has many assets, ranging from just the right combination of climate and soil to an extensive irrigation system.
However, he says those aren't the industry's best assets.
"Our biggest resource is our people," Newhouse told the crowd assembled at Grandview's Nazerene Church.
He encouraged them to engage the conversation on behalf of agriculture. Each one, Newhouse summed up, has the "…opportunity to be an advocate for our industry."