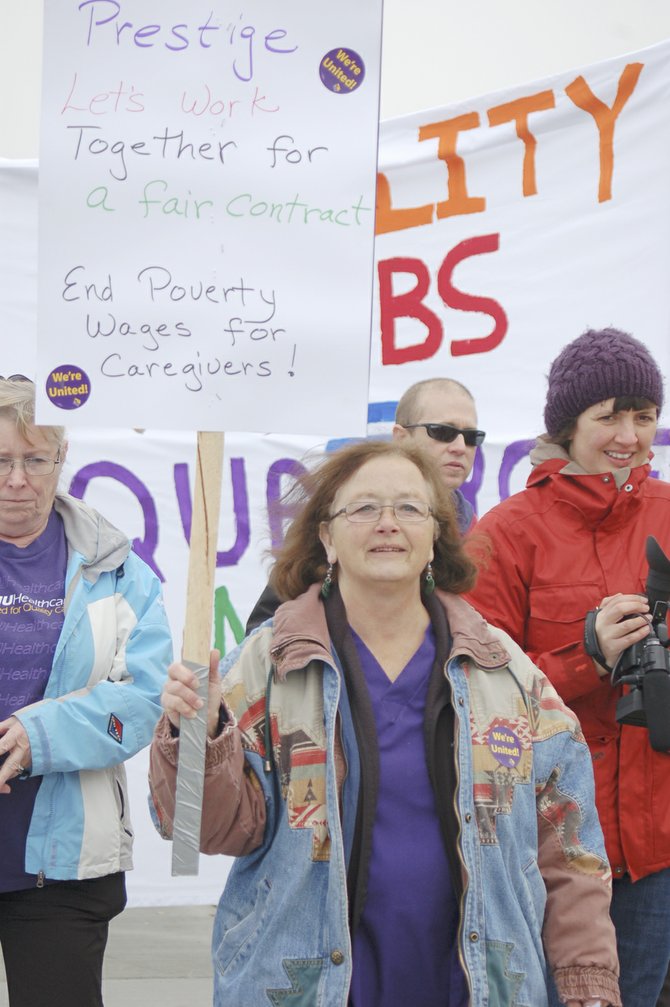 A push for better wages and dependable working hours was at the heart of a picket held at Prestige Care and Rehabilitation in Sunnyside last Wednesday.
Jackson Holtz is a spokesman for the union employees, and he says the conflict has been ongoing since about a year ago when Vancouver-based Prestige bought nursing homes owned by Eagle Healthcare.
The sites purchased included the Sunnyside location, at one time known as Hillcrest Manor, and one in Grandview.
"Nursing home workers in the region have been battling nursing home operators for months," Holtz said in a prepared statement. "First, workers in Union Gap and Colville lost pay and benefits when Eagle Healthcare went out of business. Now these same workers – along with workers in Yakima, Grandview, Richland and Sunnyside - find themselves battling for workplace respect and dignity in contract talks with the current operator, Prestige Healthcare LLC."
He says workers have been without a contract for more than a year. By phone, Holtz accused Prestige of reducing the number of hours employees are able to work.
"They can't work as many hours as they'd like and it's hard to survive without hour guarantees," he said. "On average they earn about $13 an hour and that's only a few dollars more than minimum wage."
In the prepared statement the union released last week, it quoted Celia "Sally" Salinas, a worker for Prestige in Sunnyside.
"We are working at nearly poverty wages to care for the most vulnerable seniors and people with disabilities," Salinas said.
A member of SEIU Health-care 775NW, she added, "It's time for Prestige to show workers dignity and respect; what everyone would expect for the care of these residents and the people who provide the care."
According to Holtz, Pres-tige has multiple charges pending against it before the National Labor Relations Board for violating workers' rights. A hearing is scheduled for Dec. 17 in Richland.
During a phone interview, Holtz stressed that last week's picketing is not a strike action, noting that workers have as a prime motivation the care of residents at Prestige.
"The workers just wanted to show management they want Prestige to do the right thing," he said. "The workers feel strongly they need to do the best thing and stay on the job in ensuring care for residents."
Prestige Care's corporate office in Vancouver released a statement in connection with last week's picket.
"We are currently negotiating with local SEIU union leaders to reach an agreement that is in the best interest of our employees, residents and patients," the company said. "The union organized an informational picket to share their message, but to be clear, it was not a strike and our employees continued to work during their scheduled hours."
Prestige officials added, "Our number one priority is to provide our residents and patients with the highest level of compassionate care and service, which we'll continue throughout these events."
- John Fannin can be reached at 509-837-4500.