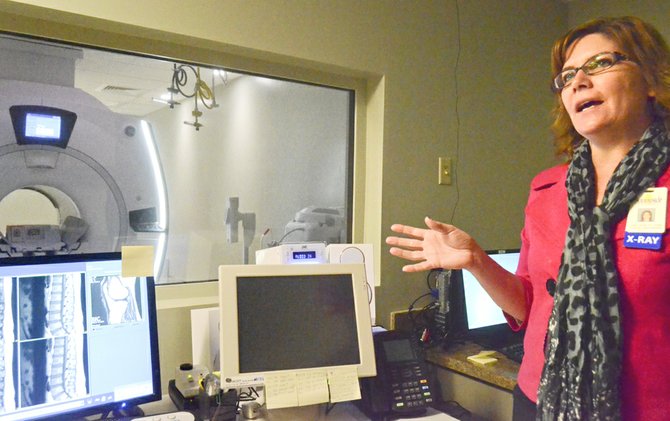 For those who are claustrophobic having an MRI can be frightening.
With Sunnyside Commu-nity Hospital's new MRI machine, that fear doesn't need to be as profound. According to Imaging Department Director Coleen Goulet, "This scanner is the latest in technology."
Speaking with members of the Sunnyside Noon Rotary Club Monday, she said the new machine has a larger bore (the tunnel). The wider bore, she said, has benefitted several claustrophobic patients already.
The Rotarians had an opportunity to visit the MRI suite during their regular meeting.
There are other advantages to the new MRI suite, providing patients additional comfort. Goulet said the table on which patients lie down has a 500-lb. weight limit and can be turned into a gurney during an emergency. The room also has music and added air, as well as a mural on the ceiling to help calm patients.
Goulet said she had experience with the hospital's mobile MRI and she is pleased with the larger, state-of-the-art equipment.
Because the machine is the latest in MRI technology, Sunnyside Community Hospital is one of only three facilities in Washington to have the capabilities provided by the machine.
Dr. David Shoemaker said there are patients from throughout the region who visit Sunnyside specifically to obtain a diagnosis using the GE MRI machine.
"The greatest technological advancement is the receiver," he said, stating a series of coils receive information from the hydrogen protons in the human body.
The hydrogen protons move out of alignment, transmitting a frequency that is read by the coils and translated by high-speed computing to create a three-dimensional image of the internal body. Shoemaker said the information is computed to one-64th of an inch.
The technology also is useful for breast health diagnoses. Shoemaker said the hospital is in the process of preparing the necessary paperwork to be designated as a national breast imaging center.
An MRI can find cancer earlier than an x-ray or CT scan, according to Shoemaker. That is important for early diagnoses.
The MRI can also help medical personnel diagnose infections and soft tissue tears.
Goulet said most MRI exams average between 40 and 50 minutes.
She said the new imaging capabilities have increased patient demand, prompting longer hours beginning next month. MRIs will be available from 7 a.m. to 7 p.m. beginning in December.