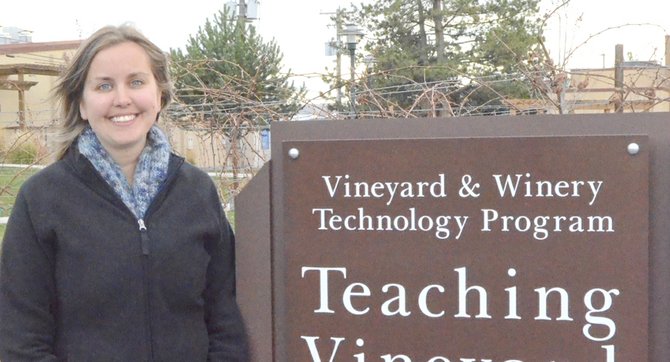 GRANDVIEW - Catherine Jones keeps busy as an adjunct instructor and grant director for the Yakima Valley Community College viticulture and enology program in Grandview.
She said her primary duty is to oversee two grants that allow students enrolled in the program to access educational opportunities.
"Together they total approximately $700,000," said Jones.
The larger of the two grants has allowed a re-design of the curriculum available to students. A hybrid learning program has been funded via the grant, giving students the ability to access courses and course information online. Also, students can enroll in specific courses that are available via interactive television.
Offering students these options broadens the educational experience, according to Jones.
She said the televised courses can be accessed at any time for review purposes or in the event that a student is unable to attend a class.
The other grant Jones is responsible for is the VESTA project. That project, she said, involves 19 community colleges across the nation.
"Through the online program, students are provided access to high-quality viticulture courses," said Jones.
She said VESTA courses are available to students around the globe.
Students, said Jones, can enroll in a course that is not provided by YVCC. That gives students greater opportunities in preparation for working in viticulture.
"The college provides me with a lot of support," Jones said, stating she is also responsible for teaching her own viticulture classes and attending numerous grape industry events.
Jones represents YVCC at monthly grape fieldman's breakfast meetings hosted by Washington State University's Prosser Extension Service. She is on the Washington Association of Wine Grape Growers' planning committee and participates in Washington Grape Society events, as well as WSU Extension activities.
If it relates to grapes, Jones is there.
"One of my favorite responsibilities is getting out and maintaining relationships within the grape industry," she said.
She said attending the various meetings and events allows her the opportunity to learn from representatives in the grape industry. "They can give me insight into how the college can best meet and serve growers, wine makers and any other specialty," said Jones.
At YVCC she is responsible for viticulture instruction, making sure students have hands-on experiences working with the college's vineyard.
Recently, Jones took on another responsibility. She organized a number of community educational workshops, including a workshop slated for Dec. 13. That workshop will help community members learn how to pair sparkling wines with different foods.
"It's about thinking what would be useful to the community and organizing the event," said Jones.
She said planning a workshop is detail-oriented from scheduling an instructor to ensuring the college processes payments for the class.
"I just really enjoy what I do," Jones said of her many responsibilities.