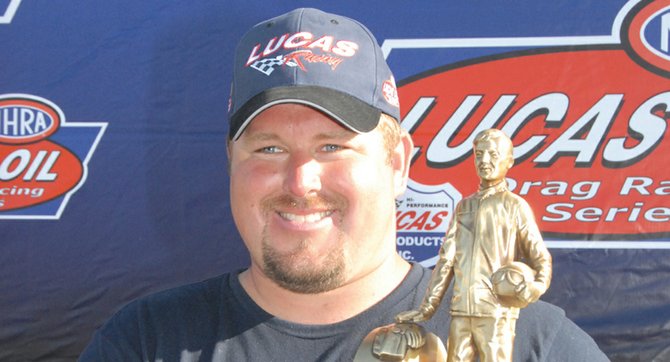 Placing runner-up in his last race turned into a victory of sorts for Sunnyside's Michael Dalrymple in claiming a national top-10 finish in the NHRA Lucas Oil Championship's Super Comp final point standings.
Dalrymple was ranked 26th in the national standings among the National Hot Rod Association's Super Comp racers heading into his last race of the season earlier this month at Las Vegas, Nev.
Vegas hadn't been particularly kind to Dalrymple in the past. He noted his best finish there had only been 10th place…and a much better finish was needed this month in order to claim a top-10 national ranking among Super Comp racers.
"I never really did well there before," he says.
Dalrymple didn't just smash his previous best mark at the Las Vegas track this month, he came within a thousandth of a second of winning the race and besting a Super Comp (attempting to clock exactly 8.9 seconds in the quarter mile) field of 145 cars. He ended up losing, barely, to Gary Wamboldt of Lakewood, Colo.
"The car was working great and I had a lot of luck," Dalrymple says of his better-than-expected second-place finish.
That runner-up wrap-up to his season earned Dalrymple 104 points and leap-frogged him all the way into a tie for sixth-place nationally at 537 points. He officially finished in seventh-place after tie-breaker standards were figured in.
Even so, a tie for sixth in the national rankings nearly matches Dalrymple's previous best finish of sixth place in the nation among Super Comp competitors.
That placing came in 2009. Also that year, Dalrymple finished first in the Div. 6 (Northwest) point standings.
He repeated that feat this year with 407 points to claim the Northwest Division title by nearly 100 points over his closest competitor. Dalrymple's father, John, finished the season ranked ninth in the Div. 6 Super Comp standings.
Dalrymple says he won't start his 2014 season until next spring, but notes the fast finish to his 2013 campaign taught him an important lesson.
"Don't give up, you never know what's going to happen."