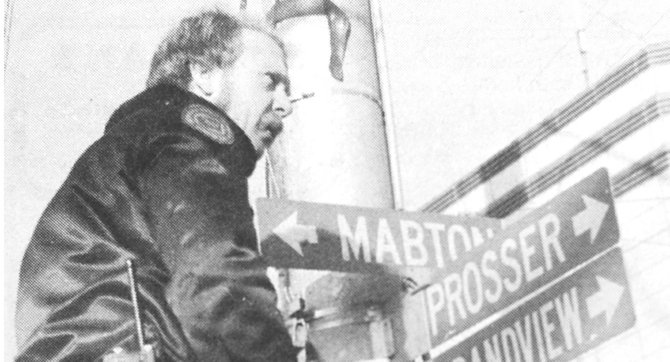 110 YEARS AGO…(1903)
Dr. Harvey of Sunnyside showed off a turnip that had grown in a white clover field that weighed 11 and a half pounds and measured 31 inches in circumference.
A second citizen's caucus was held in Sunnyside, this one, like the first, nominating H.H. Wende for mayor. The caucus members also voted to prohibit the sale of alcohol in Sunnyside.
90 YEARS AGO…(1923)
The Sunnyside chapter of the Rebekah Lodge seated newly elected officers for the district. Mrs. Towne of Grandview was chosen as chairman and Mrs. Wamba of Prosser as vice chairman.
80 YEARS AGO…(1933)
H.B. Rouse of Sunnyside narrowly escaped death when a 10-foot ditch he was working in caved in and trapped him. It took workmen awhile to free him because the walls continued to crumble as they worked. Rouse suffered bruises and muscle injuries.
Sunnyside Postmaster Fred Arrowsmith announced that going to the sites of the Grand Coulee or Bonneville dams to look for work would not increase the chances of getting a job, and local men should register at the post office if they wanted work on the federally funded projects.
70 YEARS AGO…(1943)
The U.S. Navy released a report about Ensign John Sprague of Sunnyside, who was listed as missing in action after an attack on a submarine. Sprague's Grumman Wildcat was hit by flak and crashed into the ocean after he had strafed the enemy ship multiple times.
60 YEARS AGO…(1953)
Grandview police officer Frank Fyfe spotted Indian beadwork stolen in Goldendale while walking his rounds. The recovered items were worth nearly $2,000.
Dr. Hiroshi Furukawa returned to Sunnyside to open a medical practice. Furukawa was a 1936 graduate of Sunnyside High School and the valedictorian of his class. His brother, John, had a dental practice in Sunnyside.
40 YEARS AGO…(1973)
C. Speck Motors in Sunnyside was selling turkeys for prices ranging from $400 to $4,000... but each turkey came with a "free" car.
The Sunnyside FFA team brought home the blue banner in Holstein judging, winning first place honors at the Pacific International Livestock Exposition in Portland. The team was comprised of Dan Stark, Lenny Van Pelt and Ted Ebbelaar under the direction of Roger Willis.
30 YEARS AGO…(1983)
Lee Knights resigned his position on the Sunnyside City Council.
Sunnyside High School seniors Curtis Graff and Joe Salazar were named to the Mid Valley League's All Conference Second Team for football.
20 YEARS AGO…(1993)
The Sunnyside and Grandview police departments were both honored for their support of the Washington State Special Olympics. Receiving the award for Sunnyside was Chief Wallace Anderson, who also picked up the award for Grandview and later presented it to Chief Dave Charvet.
10 YEARS AGO…(2003)
A packed crowd showed up at a Sunnyside City Council meeting to ask the elected officials not to proceed with plans to privatize the city's ambulance service.