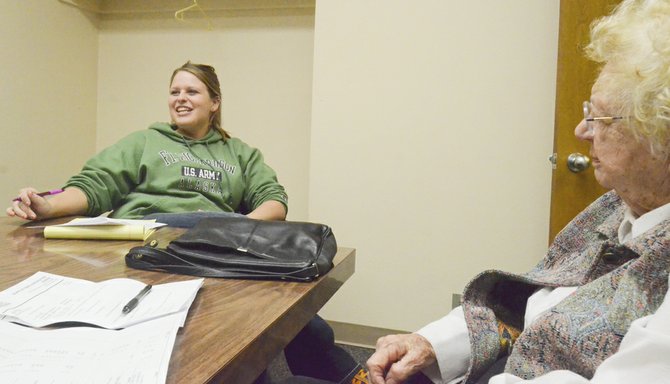 At this past Wednesday's Sunnyside Parks and Recreation Board meeting it was decided participation fees for youth sports programs are needed.
The board members were told by Parks and Recreation Coordinator Megan Razey that the participation fee for youth sports is currently $25 for city residents. She said referees are paid using the funds collected.
Razey said the city of Sunnyside would not be able to "break even" at the current youth sports participation rate. She recommended increasing the fee by $5.
"The city will be closer to breaking even," said Razey, noting the increase would also apply to non-city residents.
"We don't want to shock families…that's why we aren't recommending a higher increase," she said.
The board agreed that it is necessary to increase the fee and approved a recommendation to Sunnyside City Council for adoption.
The board also discussed playground equipment that is in storage, as well as equipment needs that were recently presented to the city council.
Razey said the city currently has three slides in storage. She said she doesn't know for which park or playground they were intended.
There are also three metal twist climbs, a two-bay swing set, a single swing set, a set of parallel bars and a bucket spin.
"The equipment has been sitting there a long time," said Razey.
Board chairperson Dorothy Aiken asked her if the equipment could be used at any of Sunnyside's parks.
Razey said Upland Park cannot be upgraded without a greater investment from the city. She said the park, if any changes are to be made, must also be updated to meet Americans with Disabilities Act requirements.
Aiken suggested Don Hughes Park as a possible location for some of the equipment in storage.
"I drive by and it's dirty," she said.
Razey said she would need to complete some research to determine the needs at the park.
The discussion later focused on a recent "wish list" Razey presented the Sunnyside City Council.
She said she was asked to create the list to show how she would use $70,000.
"This is one-time funding they (council members) are considering," Razey said.
Aiken explained to the other board members the city council is trying to determine whether the funding should be provided to Sunnyside United or to the local parks and recreation department.
Board member Bob Sarmiento said Sunnyside United is doing a great job, "…but I feel we could do more and reach more kids."
When reviewing Razey's list the board asked about a movie screen that was itemized.
Razey said the movie screen could be used for a number of events because it is a portable screen that could be used at any venue.
"I would like to have movie nights," Razey said.
She was also asked about the need for part-time help.
Razey said, "I would love to have part-time help, but this is one-time funding."
She said she has been working on getting volunteers signed up to assist with programs, but many have had problems passing a background check.
"My goal is to have an after-school program, but I need the volunteers," said Razey.