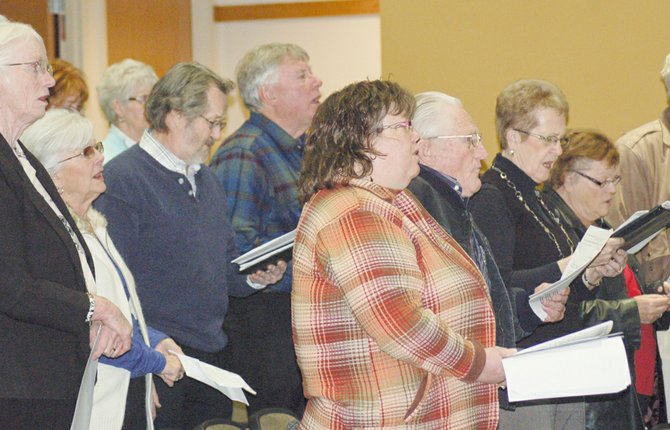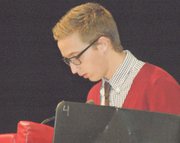 The theme was sharing with others and those attending Sunday night's annual community Thanksgiving service did just that.
Those in attendance made donations in the amount of $1,875, which will be turned over to the Sunnyside food banks. In the past nine months the local food banks have served more than 8,000 families, according to Pastor Larry Mays of the Seventh-day Adventist Church.
In Sunnyside, the Adventist Community Food Bank and Sunnyside Ministerial Association's Sun Rise Outreach Food Bank serve the food needs of the working poor. There are many to feed, noted Mays, who said the Adventist food bank alone, has served more than 4,200 families since January.
"Weekly, our food bank volunteers provide food to more than 800 families. Each family receives approximately 40 pounds of food," he told those gathered for the evening service held at the Sunnyside High School auditorium.
"Each week we can sign up anywhere from 10 to 30 new individuals," he added, making the point that Sunnyside's food banks are an important part of the community.
He said the local food banks receive a large portion of their food donations from grocery stores, farmers and private citizens. But the biggest portions of the food banks' commodities come from Northwest Harvest of Yakima.
He introduced Northwest Harvest Director Lisa Hall, the evening's keynote speaker, who reiterated on Mays' comments.
She said in Central Washington, her agency services 51 food banks which are in the business of providing nutritious food to the homeless, needy and hungry families.
"We work to provide fresh and frozen food from a variety of sources to feed the working poor, those who are facing cuts in their food stamps, and seasonal workers," Hall said.
"We are thankful for the many volunteers who aid us in this work. We have volunteers who work to repackage food, transport food and help work up menus for the week as we seek out the necessary food sources," she said.
Hall asked the community members present to "…please keep supporting your local food banks. They are helping your neighbors in your community," she said.