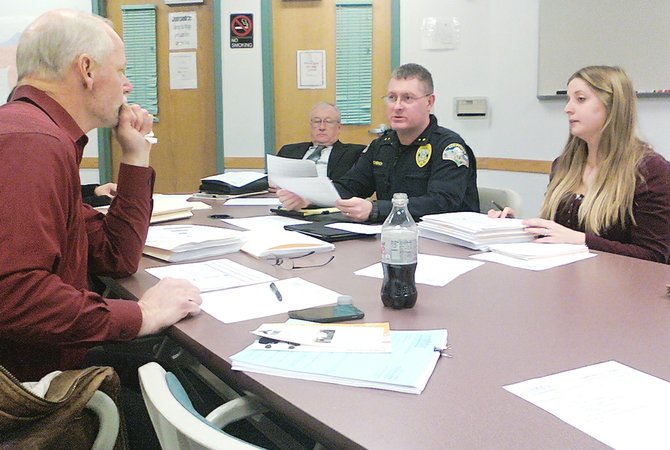 In response to questions about how shots-fired calls are recorded, the Sunnyside Police Department last night produced a stack of folders detailing the calls since 2010.
Courtney Percival, the city's crime analyst, provided the documents Monday night to the Sunnyside City Council's subcommittee on public safety.
Deputy Chief Phil Schenck noted that police focus on shots-fired calls where there is visible evidence of gunfire, such as finding spent shells at the scene or harm to property. "Something more than just a phone call," he said.
He noted that calls reporting shots fired may actually be related to fireworks or other noises.
For example, a report of shots fired in June in the 800 block of South Fourth Street was actually due to transformers popping due to weather conditions.
Percival said records also need to reflect that one actual case of shots fired could result in multiple reports for one case.
For example, a shots-fired incident in July of this year in the 300 block of Weatherwax Street generated four calls on the same case.
Weapon offense cases were reviewed last night. Schenck says those offenses include not only using or threatening with guns, but knives and other weapons.
In terms of weapon offenses for 2013, police statistics show they are down by nearly half compared to the same time last year, reduced from 68 to 35.
Other positive trends continue to be in the areas of reduced incidents of vandalism, 268 so far in 2013 compared to 399 at the same point last year, and calls related to gangs, down from 114 to 73.
While sex offenses are also on the decrease so far this year, declining from 19 to 13, councilman and subcommittee member Francisco Guerrero expressed concern in the rise of forcible rape cases in Sunnyside from four in 2012 to 10 this year.
Schenck replied that some of the forcible rape cases this year were reported by parents after learning their child had sex with an adult.
He said there will be an effort to educate adults that there is no such thing as consensual sex with a minor under the age of 16. "It's a concern," he said. "There's a group of adults who don't know it's a crime."
In other statistics reviewed last night, Schenck said although alarm calls are down (from 595 to 459) he thought they would be lower given that city police no longer provide alarm services.
He notes responding to those calls poses an element of risk, as officers need to rush to the scene with lights flashing but with the siren off.
Last night's subcommittee meeting also reviewed an update of Sunnyside police overtime costs. The figures for October show that police overtime cost the city $17,281, up slightly from the $16,152 in overtime expenses for October 2012.
City Manager Don Day said police overtime last month includes a carjacking and chase that took place in Sunnyside. That incident led to one officer temporarily being placed off duty due to injury.
Day said overtime costs for emergency personnel will happen from time to time. "It's the nature of the business," he said.
Schenck also detailed efforts within the department to reduce overtime, such as scheduling trainings and meetings during normal working hours for officers.
He said additional overtime will be incurred next month to provide traffic control for the Lighted Farm Implement Parade. Overall, though, Schenck said overtime should be fairly "flat" for the rest of this year.
Looking ahead to 2014, he said overtime costs should be similar to those incurred this year. Through October of this year, Sunnyside police overtime expenses are at $118,786, down by more than $90,000 compared to the first 10 months of 2012.
The subcommittee's next meeting will be Monday, Jan. 27, at 5:30 p.m.