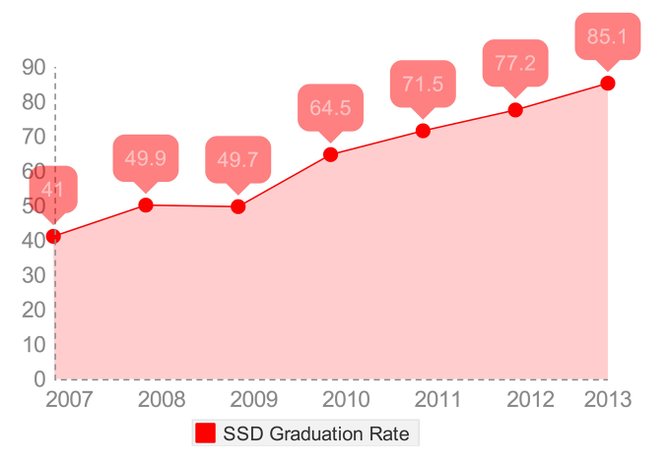 Significant graduation rate increases, combined with the implementation of continuous academic improvement and support programs has led to the Sunnyside School Board of Directors being named Washington state's 2013 School Board of the Year.
The board, led by Rocky Simmons, school board president, was presented the award at the annual Washington State School Directors Association conference held last Saturday in Bellevue.
This is the second time the Sunnyside School Board has earned the prestigious award. It previously was named the top school board in 2008. The Sunnyside school directors have also earned WSSDA School Board of Distinction honors for each of the past four years.
The WSSDA traditionally selects two school boards for the school board of the year honor. The Sunnyside School Board was selected from among districts with less than 9,000-student enrollment. South Kitsap was selected from among those districts with enrollments over 9,000 for the board of the year honor.
The top honor presented by the WSSDA comes on the heels of the state Office of Superintendent of Public Instruction finalizing the state's graduations rates.
Sunnyside, according to OSPI, boasts a 2013 graduation rate of 85.1 percent, up nearly eight percentage points from the district's 2012 graduation rate of 77.2. The 2013 graduation rate is double that of 2007, which saw just 41 percent of the senior class successfully graduating.
"Since 2007 our school's leadership and staff have focused on developing comprehensive system of continuous improvement and support for our students," said Dr. Richard Cole, Sunnyside School District superintendent.
Cole said the achievement is a testament to the school leaders and staff's commitment and innovations in implementing a system of programs and support, "…that are truly making a difference for our students."
Simmons, the local school board president, said the WSSDA recognition is the result of the incredible student success "…that all of our staff and volunteers have made possible.
"They are the ones who are making our vision a reality," Simmons added.
Simmons credited the staff for their talent and commitment, saying it is because of them that more students are succeeding at higher levels than ever before.
"This award shapes our community and showcases how we care and support our commitment to high expectations in education for all," Simmons added.