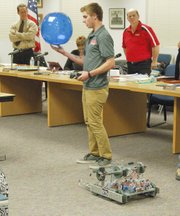 School board directors asked for more information about a proposal for a pilot agreement between the Sunnyside School District and Sunnyside Transformation Yakima Valley before taking action.
The pilot would involve Sunnyside Transformation in the effort to bring more parents into school to become involved in the education of their children.
According to Superinten-dent Dr. Rick Cole, 106 families in the district have parents who work on hop farms. The district has had difficulty connecting with the parents of those students due to cultural differences. The goal of the pilot is to bridge the gap and bring those parents into the educational process.
Cole said the program would focus on the high school, Sierra Vista Middle School and Outlook Elementary. The pilot is planned to last two years.
Director Michelle Perry asked to table the agreement until the board can get a deeper understanding of the proposal. The board voted unanimously for tabling the agreement.
More like this story