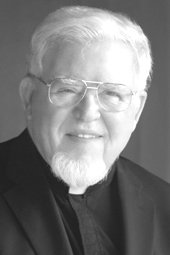 Ronald Joseph Patnode, 78, of Yakima died early Sunday morning, Nov. 24, 2013, completing his journey home to the Lord on the Solemnity of Christ the King at Cottage in the Meadow in Yakima.
He was born July 23, 1935 at St. Elizabeth's Hospital in Yakima to Joseph Edward and Zelia Amelia (Goulet) Patnode.
Fr. Ron lived and received his elementary and junior high education in Toppenish. He entered St. Edward's Seminary in Kenmore in the fall of 1949, where he received his secondary and college education, receiving a B.A, in 1957. In 1961 he completed his theological education with a Master of Divinity from St. Thomas Seminary in Kenmore.
Fr. Ronald Patnode was ordained a Roman Catholic Priest on May 20, 1961 at St. Paul Cathedral in Yakima. He received a B.A. in education in 1962 and a Master's of Education in 1970 from Seattle University.
Fr. Ron taught at Marquette High School in Yakima from 1961 to 1966, St. Joseph Junior High in Wenatchee from 1966 to 1968 and at Carroll High School in Yakima. He was vice principal and teacher at Carroll High School from 1968 to 1973, then principal from 1973 to 1979, and Superintendent of Catholic Schools of Central Washington from 1974 to 1979.
He was instrumental in developing the first Diocesan School policies. As secretary of the Washington Federation of Private Schools, he helped lobby for a state voucher system for private school parents.
Fr. Ron studied Spanish in Mexico City from 1979 to 1980 in preparation to serve the Hispanic people in the Diocese. After returning from Mexico, he enjoyed teaching a course at Heritage University in its second and third years of existence.
He was Diocesan Director of Hispanic Ministries from 1980 to 1995. Fr. Ron was a leader in establishing a Regional Office for Hispanic Affairs for Washington, Oregon, Idaho, Montana and Alaska, serving as its board chairman several times. Conferences were put on to sensitize priest and religious workers to the Hispanic culture.
He was a strong advocate in the diocese, region and on the national level for parishes to be communities that include all Baptized members. Many workshops were held to train lay ministers and leaders. He was a leader in the process leading to the National Hispanic Encuentro that began in local parishes, continuing in dioceses, regions and a final meeting in Washington D.C. that brought to the surface priorities of needs. This concluded with the U.S. Bishops Statement of a National Policy for Hispanic Ministry. Fr. Ron was a founding member of the Instituto National de Liturigia Hispana and first Secretary for the National Association of Diocesan Directors of Hispanic Ministry.
He was a member of the Washington Association of Churches Committee establishing and directing a program for Salvadoran and Guatemalen refugees. He also served as Diocesan Director of Continuing Education of Clergy from 2000 to 2006. He served twice as regional representative on the Board of Directors for the National Federation of Priests' Councils.
Parish assignments were; assistant and administrator of St. Peter Claver in Wapato, St. Mary in White Swan, Immaculate Conception in Mabton, assistant and pastor of St. Joseph in Wenatchee, pastor of Royal City and Mattawa, pastor of St. Joseph in Kennewick, pastor of St. Aloysius in Toppenish and Resurrection Parish in Zillah, St. John the Baptist in Cle Elum and Immaculate Conception in Roslyn, pastor of St. Joseph in Sunnyside, and pastor of Our Lady of Lourdes in Selah. He also did jail ministry in Benton, Chelan and Yakima County jails, as well as in the Yakima Juvenile Justice Center.
Fr. Ron was active in the Cursillo Movement and the Search Retreats for many years.
Fr. Ron enjoyed golfing for many years and was proud of his Carroll High School golf team who placed highest of all AA high schools in the state tournament. He enjoyed skiing and his ministry of providing Masses at White Pass Ski area. He enjoyed playing cards with his cousins and close friends who provided him the opportunity to offer them the Sacrament of Reconciliation afterwards! He traveled the world with his friends not only for enjoyment and relaxation, but especially for educational and informational purposes. From those experiences he learned that our human differences are blessings from God and that we are all children of God. Fr. Ron was a strong advocate of equality, social justice and a dignified life.
Fr. Ron is survived by his sister, JoEllen (Larry) Barrientos of Packwood; nephews, Lindsey (deceased) (Kerri) Barrientos, Vickie Barrientos, Loren (Carmen) Barrientos, Michele Rhode and Lonny Barrientos; several grandnephews and grandnieces; many cousins; and those who truly considered him "Father": Osmar Aguirre, Candido Huertas, Rafael, and Lalo Gudiño.
He was preceded in death by his parents.
Viewing and vigil services will be held Monday, Dec. 2, 2013, at 6:30 p.m. at Holy Family Catholic Church, 5315 Tieton Drive in Yakima. Mass of Christian Burial will be held Tuesday, Dec. 3, 2013, at 11 a.m. at Holy Family Catholic Church, with interment to follow at Calvary Cemetery.
Memorials may be made to the Priests Retirement Fund or the Seminarian Education Fund, c/o Diocese of Yakima, 5301 Tieton Drive, Yakima, WA 98908.
Brookside Funeral Home & Crematory, Yakima, is entrusted with the arrangements.