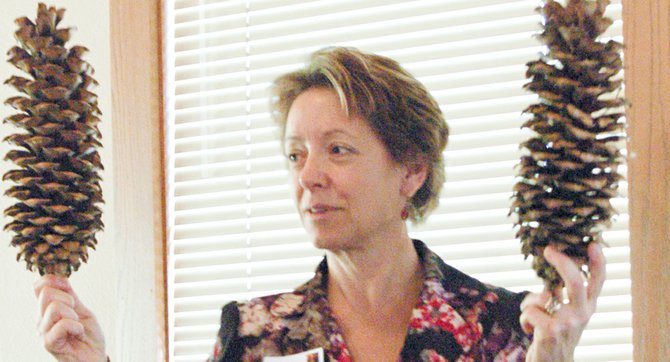 Jheri Ketcham made a good argument that there isn't really a bad time to visit the Yakima Area Arboretum, during a speech to the Nouvella Club at Sunnyside's Snipes Mountain Restaurant and Brewery late last week.
Ketcham, who is the co-director at the arboretum, presented a slide show that took the ladies of the club through the seasons, but started with an overview.
She said the arboretum was originally established in 1967 by local garden clubs as a place to display the ornamentals that can be grown in the area.
"It's an amazing collection," said Ketcham. "It's 32 acres with more than 1,000 (types of) trees and shrubs."
She showed off her favorite named plant, the Pseudotsuga menziesii, or Weeping Douglas fir.
"I wanted to name my daughter that," she said, pronouncing the scientific name for the club. "But my husband nixed that idea."
Ketcham said that autumn at the arboretum is marked with vivid oranges as the trees turn. Even after the colors start to fade, new surprises are always around the corner. She said that only that morning the staff had spotted white egrets on the grounds.
The winter is marked by an invasion of Canadian geese that eat the crabapples. In the spring the arboretum is a burst of colors of all types. She encouraged club members to visit in mid-April to see all 54 varieties of crabapples blooming about the same time.
The summer is also gorgeous, according to Ketcham, in particular the rose garden.
She pointed out particular plants during the slide show, and noted that one reason the arboretum was established is to allow people to view plants that they might want to grow in their own gardens. Some of the gardens in the arboretum, including the rose garden, were planted by members of various clubs.
"Volunteer groups built the parts of the gardens that meant a lot to them," she said. "And they help to maintain the gardens."
She said that the goal of the arboretum is education, and several programs are available for that purpose.
Coming up on Friday, Dec. 13, and Saturday, Dec. 14, the arboretum is holding its Luminaria Candle-Lit Walk, featuring a mile-long pathway, live music, carolers and refreshments, all free. The evening walk allows people to enjoy the outdoors in winter.
The arboretum also holds an annual Arbor Day festival, and last year gave away 700 trees, one per family.
Ketcham said they also partner with other organizations to offer demonstrations and workshops throughout the year. They have pruning classes and tree plantings. They also hold a day camp for children to teach them how to play outdoors.
She said the arboretum is always in need of volunteers and donations. Although it is city-owned, it does not receive any taxpayer funding. More information about the Yakima Area Arboretum can be found at www.ahtrees.org or by calling 509-248-7337.