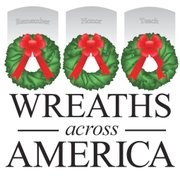 GRANDVIEW – For the third consecutive year, the Wreaths Across America movement will have Lower Valley participation during the national memorial planned for Saturday, Dec. 14.
There are 468 military veterans interred at Grandview Cemetery, and on Dec. 14 Ginger Emerson hopes each one is honored with a wreath.
The ceremony here will again coincide with a national event to take place at Arlington Cemetery.
Since Arlington's wreath laying service will be at noon on Dec. 14 Eastern Standard Time, the one in Grandview will occur at 9 a.m., says Emerson.
Wreaths Across America began in 2007 and this year more than 800 cemeteries across the country will participate in the Dec. 14 wreath laying.
The event has grown here in Grandview and the Lower Valley, says Emerson. She notes the first year 140 wreaths were laid at veteran grave sites in Grandview and last year the total was 245.
This year, so far, she says nearly 400 wreaths have been purchased for the Grandview event. Emerson says the deadline to purchase a wreath for this year's ceremony is Monday, Dec. 2. They can be purchased online for $15 apiece at wreathsacrossamerica.org. Emerson says $5 of that total benefits a program to help Washington families who have lost loved ones in the military.
Emerson and husband LJ are well familiar with the pain of having a loved one die overseas while serving in the military.
Their son, Matthew, died in 2006 while serving with the Army in Iraq.
"My grandfather was a World War I veteran and my father a World War II veteran, but I don't think it was until my son went into the Army in 2005 that I realized just how much they sacrifice to serve," Ginger Emerson says. "They put everything on hold."
The Emerson and Schliep families got the Wreaths Across America movement rolling here in the Lower Valley, and Ginger hopes to see as many of the wreath sponsors as possible at the ceremony on Dec. 14. "We'd love to have everyone there who sponsored a wreath," she said.
She says the service at 9 a.m. on Dec. 14 will include a teaching moment that she will present, as well as a presentation of Taps and music.
After that, family members with veterans interred at the Grandview Cemetery will be invited to place their wreaths ordered just for the event.
Emerson says there will also be a few moments of silence to respect those veterans who have passed on.
She praised the city of Grandview for its cooperation in making the ceremony possible at the cemetery, which is located Elm Street, north of the Nazarene church.
Emerson also expressed appreciation to the Walmart Distribution Center in Grandview for hauling the wreaths to the cemetery for the service.
She says one goal of the event is to remind youths to honor and remember those who have served and passed on. To that end, the ceremony on Dec. 14 will have several Grandview High School students on hand.
For more information on the service or about purchasing wreaths, contact the Emersons at 882-3801.
The service is open to the public.
"We encourage families and children to attend," Ginger says. "We love to see the kids learning how to honor veterans."
In addition, she notes, there is the practical matter of laying almost 400 wreaths or more that Saturday morning.
"We welcome lots of helping hands," she said.
More like this story