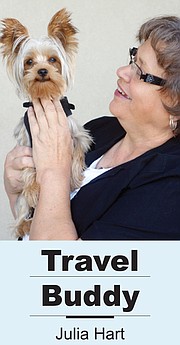 I wouldn't say my favorite canine friend is a fashion hound. He only has one set of clothes, the ones he came in.
However, as near as I can tell Buddy doesn't seem opposed to having extra clothing.
Recently, he graciously allowed me to outfit him in a little red Santa suit in preparation the holidays.
I can't really tell if he likes to wear the doggie coat, although I thought he looked quite dashing in his hand-me down finery. Either he was agreeing as he danced around the front yard and house with more than his usual vigor, or he was trying to find a way to escape the red coat.
I like to believe he was showing off for the neighborhood squirrels and the hated cats, letting them admire how sporting he looked in red.
If so, I am sure he won't mind if I get him another jacket. I was thinking about a nice, red plaid Sherpa-lined doggie coat I've been eying in one of the pet holiday catalogs that have been regularly arriving by mail.
It would be awful if he had to go to town dressed in unsuitable clothing. He would be a laughing stock among the other dogs. Never mind the howls of delight the cats would raise at his expense.
Still, I think he will want to look good for his first family holiday photos.
It also occurred to me he might like a day at a local doggie spa. It has to be a place where he will be treated like the prince he is, where he will be pampered and given all of his favorite treats. I don't think there is a doggie spa nearby to his liking. But I've heard of such a luxury spa in Fishersville, Va. It's called the Cedarcrest Animal Clinic and these folks really know how to care for my little pal.
They offer plush, heated crate mats, rooms with great views of wide open spaces for leash-free running and they will even prepare a special holiday feast for canines.
As usual, Buddy is insistent about taking part in this new adventure. Unfortunately, I don't believe I'll be sending my baby across the country this holiday.
So, he is going to have to settle for that lovely red plaid coat and a Christmas stockingful of his favorite Paw Print Barkery treats.
I think Buddy will look quite handsome as Sherlock Holmes for the holidays. I suppose a matching Deer slayer hat would be too much. Buddy would probably just bury that in the back yard with his other hated toys.
I think he'd prefer the Cedarcrest Clinic spa. Me, too.