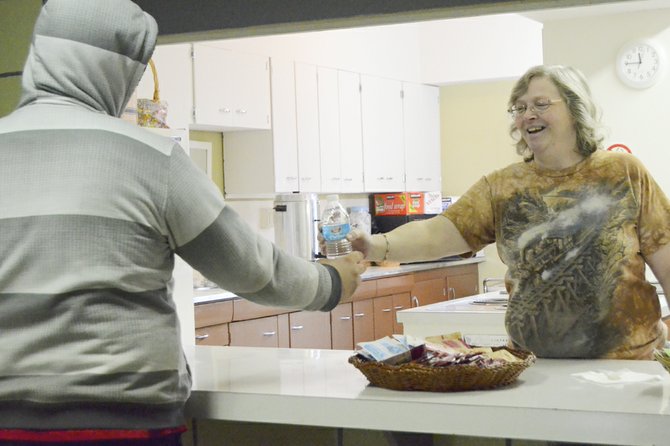 In the face of homelessness and exposure to gangs, Sunnyside residents have for years sought ways to take care of community members in need. One local church, Oasis Community Church, has decided there is a way to take action.
The church established a new outreach program, opening its basement for "The Underground."
Currently the outreach effort assists the homeless population, finding shelter, food and basic necessities.
Joe and Elizabeth Knowles work with the individuals seeking resources.
Mrs. Knowles said she assists homeless families with housing and food services.
"Last year we served a total of 60 people…there were 14 families for which permanent housing was found," she said.
This year Knowles said she found housing for one family so far.
Pastor Cameron Garcia said there is a need for temporary shelter services this year because the county has not approved any in Sunnyside.
Knowles said that The Underground is hoping local motel and hotel owners might donate rooms to temporarily provide shelter to the homeless.
Garcia noted overnight temperatures have been below freezing the past couple of weeks and weather predictions indicate this winter will be colder than normal.
Knowles and Garcia said The Underground believes in serving the community and the neediest individuals living here.
Garcia said he firmly believes it is the role of Christians to be inclusive, showing the love of Christ to everyone.
That is why The Under-ground has become an important outreach program to him and his church family.
To assist the homeless in the community, assistance from residents outside the church is always welcome.
Garcia said The Underground welcomes vol-
unteers willing to serve coffee, cocoa, to-go foods like granola bars, oatmeal and other microwavable foods.
Food, toiletries and warm clothing donations are also welcome. They are distributed to those being served by the outreach program.
The Underground is open to the homeless during morning sessions Mondays, Wednesdays and Fridays from 8 a.m. to noon.
Garcia said a new program at The Underground is being planned. That program, afternoon sessions, will provide at-risk youth in the community with a safe environment to gather after school.
"It will be a drop-in center," he said, stating the program is scheduled to begin in January.
Youth and their families can gather at The Underground, becoming better acquainted with others and enjoying a number of activities.
"We are looking to hire a youth development specialist," said Garcia, noting youngsters will be provided a number of resources.
He said the specialist will help youngsters who have issues with drugs, alcohol and pressure from gangs.
"We are working with local authorities to keep kids from wandering the streets with nothing to do," said Garcia.
The Underground will have games like foosball to enjoy. Garcia said the goal is to "…create an environment that is safe and people can come here without judgment…there are no labels."
He said the ministry of The Underground "…is about getting our hands dirty." He said the church ministers to the broken and wants to develop relationships with those who may feel they are without hope. "It's about giving second chances."
Garcia said the goal is to get the community involved so the outreach is community-driven.
Currently there are fundraisers being planned to assist with funding for the programs, including a craft bazaar at the church on Saturday, Dec. 14.
Anyone wishing to contribute to the outreach effort can do so by calling 831-3287.