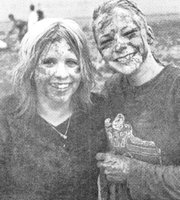 110 YEARS AGO…(1903)
Outlook farmer J.S. Herin reported a banner potato crop at 18 tons to the acre. The crop was raised on a parcel of ground that seven years earlier had been seeded to alfalfa.
The Mabton Drug Company offered syringes, water bottles and other rubber goods for sale.
90 YEARS AGO…(1923)
Sunnyside's Planter Hotel announced the arrival of a new taxi service in the community. Guy Lichty of the hotel said a brand new 1924 Big-Six Studebaker was purchased.
H.W. Turner of Sunnyside was appointed to serve on the newly-formed Washington State Swine Breeders Association.
80 YEARS AGO…(1933)
Sunnyside High School had to add extra bleachers to its gridiron field to accommodate visiting Yakima fans and its team of 50 football players scheduled to play against the Grizzlies.
Sunnyside violinists Robert Lee, Ralph Jongewaard, Dean Widdows and Douglas Campbell participated in a recital in Yakima.
70 YEARS AGO…(1943)
Bickleton's Sophia Matsen asked residents to leave empty coffee cans with lids at Wilson Store. Matsen planned to fill the cans with candy and send them to men in the military.
Lower Valley men entering the U.S. Navy to serve in World War II included Henry Smasne, Beryl Johnson Wilson, Howard Kilian, James Galbraith, Jesse Bell and William George Peck.
60 YEARS AGO…(1953)
Barbara Gochnour was elected president of The Dusty Deers Blue Bird group in Sunnyside. Diana Campbell was named vice president.
Walter Dopps joined Horace Miller's real estate practice in Sunnyside.
40 YEARS AGO…(1973)
Sunshine Days Committee Chair Charles Winkenwerder reported that the annual event had a decline in attendance.
Sunnyside High School football player Tom Bassett recovered after suffering a ruptured spleen in a game against Toppenish.
30 YEARS AGO…(1983)
Dennis and Ayner Browning took over ownership of the Sunnyside Sears store. A resident of Grandview, Mr. Browning had previously served as president of the Grandview Chamber of Commerce.
Traci Stewart was named Sunnyside High School's homecoming queen in a ceremony coinciding with the football game against Eastmont.
20 YEARS AGO…(1993)
Sunnyside's Mid-Valley Mall celebrated its first anniversary.
The Sunnyside and Grandview city councils disagreed over who would be able to claim the Lower Valley Golf Course in their future boundary expansions.
10 YEARS AGO…(2003)
The Sunnyside Fire Department announced that it wanted to explore the formation of a cadet program for youths ages 16 and older.
Gayle Hayes established a new professional beauty school in the Port of Sunnyside's business incubator space in the Horizon building on East Edison Avenue.