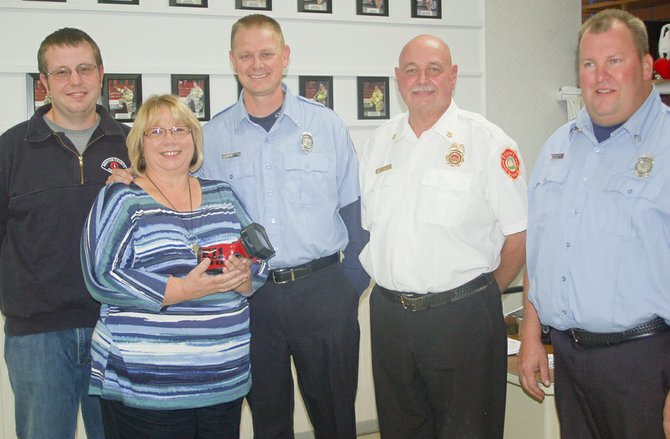 Thanks to a memorial set up in the name of a longtime volunteer fireman, the Sunnyside Fire Department will be a lot safer when entering smoke-filled buildings.
This past Wednesday night, during the department's volunteer drill meeting, the volunteers invited Linda Timmermans and her son David Timmermans to inspect the department's newest safety unit.

Money donated by the family of the late Bill Timmermans of Sunnyside was used to purchase a thermal imaging camera, fulfilling the family's request, according to Sunnyside Volunteer Fireman Lt. Alan Van Beek.
He explained that the portable unit, which is no larger than a regular 35mm camera, will allow firemen to check for hot spots in smoke-filled buildings and can also be used when approaching smoking vehicles.
"We wanted to honor Mrs. Timmermans' request that we purchase a safety item that would be of significant value and comfort for the department," explained Deputy Fire Chief Lloyd Hazzard.
"We think this item fulfills that request," Hazzard added.
Timmermans, who served as a safety officer for the volunteer firemen, was a 36-year member of the Sunnyside volunteer corps and would have appreciated the purchase of the thermal imaging camera, explained Van Beek.
"When we use the thermal imaging camera, it will keep Timmermans' memory a little closer in our minds," said Hazzard.
"You did a good job in buying the right thing," said Mrs. Timmermans.
Hazzard said the department volunteers now want to raise enough money to purchase a second thermal imaging unit as a back-up. He said the unit costs about $7,000.