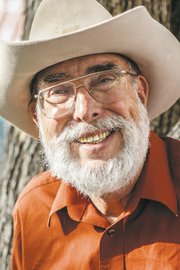 Dud Campbell could feel it in the mornings … the cool breeze on the skin, the slight chill in the air, the messages nature sent to tell us autumn is here. And in autumn, Dud knew, the duchess and the truck driver would return to his computer for yet another season of novel writing.
In fact …
Dud swi-tched on the computer and sat down to work on "Murder in the Soggy Bottoms" once again. Doc thought that sounded like mayhem in the neonatal ward, so we just called it the duchess and the truck driver.
Anita smiled when she saw her husband back at work on his dream book, and made coffee.
It was always hardest for Dud to type the first word, so he wrote "Dear Mom" as he always did, and then proceeded with the story. He'd delete the Dear Mom later.
"When the duchess came to the truck driver's hometown," he wrote, "she was startled by the small houses she saw. Where would they put the servants? How could you hold a dance in one? And a garage for just two cars? But it was here her truck driver lived, and here became … a special place. If she'd known those many years ago before their steamy relationship of the children: his daughter by his first wife and her dukelet by him, and the murders in the Soggy Bottoms that wrenched their idyllic tranquility into wrenched shards of cross-cultural agony…"
Dud smiled at that and sipped his coffee. Not bad. Not bad at all. The coffee was good, too.
"… would she have fallen for this man of her dreams? This man with the long billfold on a chain? This American with the stainless steel insulated coffee mug with the lid on it? This paragon of practical pursuits?"
Oh yes, Dudley, he told himself. This year I think we'll finally finish this novel.
‑ Join the conversation wherever you go. Good hearing keeps you connected with friends and loved ones. Call BELTONE at 1-866-867-8700 to schedule your FREE hearing screening.