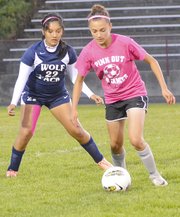 GRANDVIEW – This past Saturday it was no holds barred when the Lady Greyhounds took to the pitch against visiting Wapato.
Grandview handily defeated the Wolves, blanking the visitors 6-0. The win snapped a two-match losing streak.
Aressa Trevino of Grandview drew first blood in the 17th minute of the match. She scored on a pass delivered by Jamila Shafer.
"This was a sign of things to come from Trevino, who ended the day with three assists and two goals," said Grandview Coach Anne Holden.
In the 33rd minute Trevino set up another goal delivered between the crossbars by Marissa Caballero.
The Lady 'Hounds led 2-0 at halftime and didn't allow the momentum to wane in the closing half.
Grandview built upon the two goals just two minutes into the second half. That's when Caballero completed a pass to Trevino, who booted the ball past Wapato keeper Lupita Herrera.
The Lady 'Hounds continued to dominate, keeping the Wolves on the defensive end of the field.
In the 50th minute, Trevino dished the ball to Biviana Rivera, who scored to give Grandview a 4-0 lead.
The two paired up again 17 minutes later and Rivera put the ball away again.
Adding a late goal with just eight minutes until the final whistle was freshman Ana Marquez, sealing the match 6-0.
"The Lady 'Hounds dominated time possession, which led to 14 shots on target," said Holden, who was pleased with the team effort.
Herrera denied Grandview on eight scoring attempts.
Wapato tallied just two shots on goal, both of which were shut out by Lady 'Hounds keeper Madison Trevino.
Grandivew (2-2, 4-6) will tomorrow (Tuesday) travel to the Viking ship in Selah.