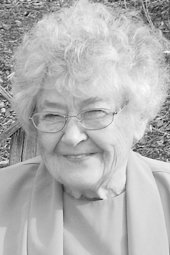 Betty Ann Allen, 93, of Sunnyside passed away on Sunday, Sept. 6, 2013,
Betty was born in Hoquiam in 1920 to George and Viola Brault. She had an older brother, Robert, and younger sister, Audrey. Her father was a bookkeeper for a tugboat company and eventually became mayor of Hoquiam, her mother was a homemaker and was very active in the First United Presbyterian Church of Hoquiam. During WWII, her mother served as post mistress in Hoquiam.
Betty attended secretarial school, but wanted to be a nurse. She eventually went to Deaconess Hospital School of Nursing and graduated in 1945. She was adventurous. After working for a short time in Medical Lake and back in Hoquiam at hospitals, she moved to Hawaii in 1946 as head of surgical nursing. She worked at the Kuakini Hospital for two years; which before the war was a Japanese hospital with doctors who spoke only Japanese and all the records were in Japanese. After two years and a lot of travel through the Hawaiian Islands, she moved to Bay City, Texas with friends. Texas didn't agree with her, so in 1949 she moved back to Hoquiam. She worked in the Gray's Harbor Community Hospital as a surgical nurse as well as a nurse anesthetist.
While in Hoquiam in 1953 she met an old friend of the family who had been a neighbor in the early 1930s, Roscoe N. Allen. They courted and eventually married on Nov. 29, 1953. In the following years, they had five children and moved to Sunnyside in 1962.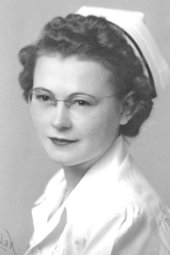 She started work at Valley Memorial Hospital in Sunnyside as a Registered Nurse and eventually become the Director of Nursing. She retired in 1986 as the DNS. Feeling idle in retirement, she decided in 1987 at the age of 66 that "someone needed to take care of the old people," so she worked as a nurse for Yakima Memorial Home Health. She re-retired in 1998 at the age of 78, earning Home Health Nurse of the Year for the state of Washington. She said she wanted to go out on a high note.
Over the preceding years she had traveled extensively, including Denmark, Italy, Israel, Singapore, Venezuela, Canada, back to Hawaii and she and Roscoe traveled throughout the USA visiting friends and relatives.
Betty loved to travel and to spend time with her friends and family. She was an elder of the Sunnyside Presbyterian Church, and an active grandmother fully involved with her grandchildren's extracurricular activities and their school activities.
She is and always has been, dearly loved and cherished as a wife, mother, and grandmother. Betty believed in faith, hope and charity and tried to abide by these standards. She will be sorely missed; but her friends and family know she is active in her new life with her Lord and Savior Jesus Christ.
Betty is survived by her sons; George Allen of Federal Way, Nelson (Tracy) Allen of Magnolia, Texas and Jon (Joyce) Allen of Sunnyside; daughters, Linda (Mike) Lehman of Spokane Valley and Kathy (Kent) Tramel of Sunnyside; grandchildren, Jonathan B. Lehman and Patrick D. Lehman, both of Spokane, Hank A. Tramel, Wilson D. Tramel and Kurtis J. Tramel, all of Sunnyside, Cassandra D. Allen and Daniel B. Allen, both of Tumwater, Zachary M. Allen, Travis W. Allen and Rachel M. Allen, all of Magnolia, Texas; grandchildren of special circumstances, Darren Lehman, Heather Crowder and Stanly Petersen; and sister, Audrey Jones of Kennewick.
She was preceded in death by her husband of 41 years, Roscoe Allen; her parents, George and Viola Brault; and her brother, Robert Brault of Santa Monica Calif.
In lieu of Flowers, Betty would ask that donations and/or memorials be donated to your local church, your local food bank or to Lower Valley Hospice.
A non-perishable food bank item will be accepted at the time of service. Memorial services will be held on Saturday Oct. 12, 2013, at 3 p.m. at Sunnyside Presbyterian Church.
Valley Hills Funeral Home in Sunnyside is in care of all arrangements.
More like this story