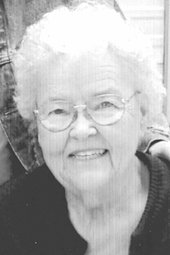 Margaret Grace Beasley, 92, of Sunnyside went to be with her Lord and Savior on Thursday, Oct. 3, 2013.
She was born Aug. 2, 1921 in Sunnyside to Grace [Moore] and Neil Bridgman.
Margaret graduated from Sunnyside High School in 1940, and later graduated from Multnomah School of the Bible. She also studied at Central Washington College (University) of Education.
In 1951 she married Esko Rentola to whom four children were born. Margaret and Esko labored for many years in home missions work with the Assemblies of God, ministering with Northwest Native Americans. Victor Tom was welcomed into the family in 1970.
In 1993 Margaret married Roland Beasley, spending 15 years together traveling, camping and visiting family. Both husbands preceded her in death.
Margaret cherished being a devoted wife, mother, grandmother and great-grandmother. She loved sewing, cooking, gardening and telling people about Jesus.
Margaret was a past member of the First Brethren Church, and for more than 30 years was an active part of the Neighborhood Assembly of God church in Sunnyside.
Margaret is survived by her loving children, all in Washington State: David (Liz) Rentola of Eglon, Sylvia (Bernie) Ferrell of Brier, Ruth (Daymond) Cole of Fox Island, Anna (Bryan) Johnson of Everett, and Victor Tom of Prosser; 14 grandchildren; 17 great-grandchildren; numerous nieces and nephews; and a host of friends.
She is preceded in death by here her parents, Neil and Grace Bridgman; two sisters, Dorothy Kelley and infant sister, Elsie Bridgman; one brother, Fred Bridgman.
Viewing and visitation will be held Thursday, Oct. 10, 2013, from 3 to 8 p.m. at Smith Funeral Home, 528 South Eighth St., Sunnyside, with burial to follow at Lower Valley Memorial Gardens in Sunnyside on Friday, Oct. 11, 2013, at 10 a.m. Memorial services will be held Saturday, Oct. 12, 2013, at 2 p.m. at Neighborhood Assembly of God, 385 East Allen Rd., Sunnyside.
If you would like to sign Margaret's on-line memorial book, you may do so at www.funeralhomesmith.com.
Smith Funeral Homes Ltd. and Crematory in Sunnyside is in charge of arrangements.