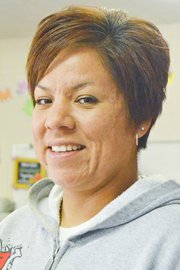 Age: 35.
Spouse: Jose Manuel Villagrana.
Children: Victor Manuel, Emmannuelle.
Occupation and place of work: Substitute teacher for Sunnyside School District and girls soccer coach at Harrison Middle and Sunnyside High schools.
My favorite part of the Yakima Valley is... the weather, as it can surprise you.
When I was a child, I wanted to grow up to be... a firefighter.
First job I ever had was... as a cook at Arby's.
If a movie was made of my life, the actor/actress I'd want to play me is... Rosie O'Donnell...I can't think of a Hispanic one.
The best gift I ever received was... my boys.
The best piece of advice I ever received was... keep pushing forward and don't look back.
My favorite dessert is... blueberry pie with ice cream.
One of my most memorable moments, besides getting married or having children was... going to see el Santo Nino De Antocha in his chapel as it was a very spiritual experience.
If I could witness any event past, present, or future, I would want to see... the Gettysburg Address.
I'd love to learn how to... bake pot pies.
The furthest I have been away from home is when I went to... La Laguna, Zaccatecas, Mexico as it was a 35-hour drive.
My favorite leisure activity or hobby is... cooking and baking.
If I didn't have to worry about money, I'd spend my time... exploring the Old World, that is Europe.
The one word that best describes me is... outgoing.
If I could change one thing about myself it would be... my weight.