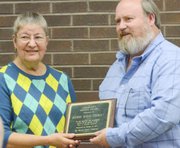 GRANDVIEW – The international fire prevention and building codes were changed last year and the Washington state legislature has adopted the new standards.
As a result, the city of Grandview last night (Tuesday) adopted the new codes, as well.
Grandview Fire Chief Pat Mason said the codes are reviewed and revised every three years.
"There aren't any major changes," he said.
The codes are published by the International Code Council.
Mason said adoption of the newly revised codes keeps the community current on the standard of code enforcement in an effort to provide a safe and stable environment.
As each newly revised code was adopted the former codes were repealed.
Also adopted were the international uniform plumbing, the mechanical, the energy conservation and the property maintenance codes.
City Administrator Cus Arteaga told the city council members, "We don't see any problems or major differences with the new code adoption."
The Grandview City Council adopted all six codes by a 6-0 vote.