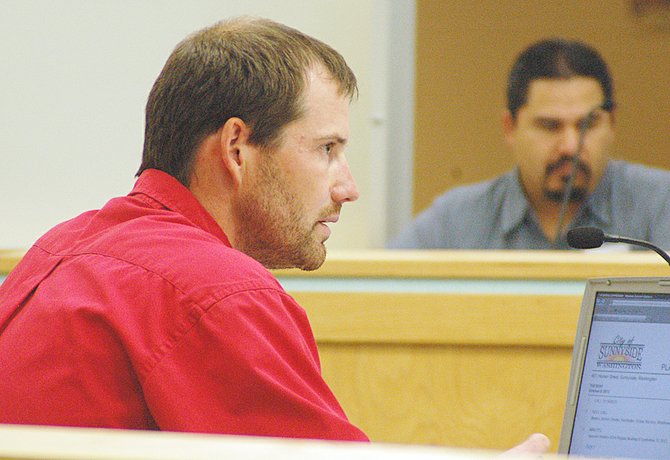 With the Sunnyside City Council extending a moratorium on permits for marijuana retail outlets until next September, the city's planning commission expressed a desire last night to take extra time on the process.
During their meeting last night, Tuesday, planning commission members received a draft work plan calling for it to hold a public hearing in January 2014 on recommendations related to the state's new marijuana laws.
The work plan also covers efforts needed over the next few months ranging from legislating alternatives for regulating collective recreational marijuana gardens to determining the extent of intervention required for everything from licensing to taxation and code enforcement.
Commissioner Jeff Barrom felt the work plan's timeline was too short, noting city attorneys are trying to get a handle on the legal implications for Sunnyside's staff and elected officials in permitting and allowing sales of a product that is illegal under federal law.
"Why do we have a January deadline?" Barrom inquired. "A lot of things have to happen before that and of the things listed I don't know if a lot of them get done well."
He also expressed concerns that council between now and next September might go ahead and declare the sales illegal after all, negating potentially months of work undertaken by the planning commission.
While a work plan is required to meet state law in showing Sunnyside is taking steps to come into compliance with legalized marijuana in Washington state, city planner Jamey Ayling said he could bring before council next Monday a proposal to delay the planning commission's hearing until next February.
And, Ayling noted, taking the slow approach would be wise for Sunnyside from a fiscal and legal perspective.
He feels if the city moves too quickly in adopting formal marijuana zoning and sales it could get ahead of the rest of the region. "We don't want to break the trail," he said. "If we're first we will be sued and our pocketbook is not deep."
Though the commission wants to take a slower approach to planning for marijuana sales here in Sunnyside, the group did reach consensus on where the retail shop can locate.
Borrowing from adult entertainment zoning regulations the city adopted in recent years, marijuana shops would be forbidden within 1,000 feet of schools, parks, churches and residential areas.
The locations where the planning commission will likely recommend permitting a marijuana business are in the area of the strip mall that houses Subway and other retail outlets near Lincoln Avenue and Yakima Valley Highway. In the same vicinity, a marijuana retail shop could set up business near the Goodwill store and Dollar Tree.
Another area is near the Scheenstra Dairy, just off of I-82, exit 69.
The Sunnyside Planning Commission will hold its next meeting on Tuesday, Dec. 10, at 6:30 p.m. in the Law and Justice building.