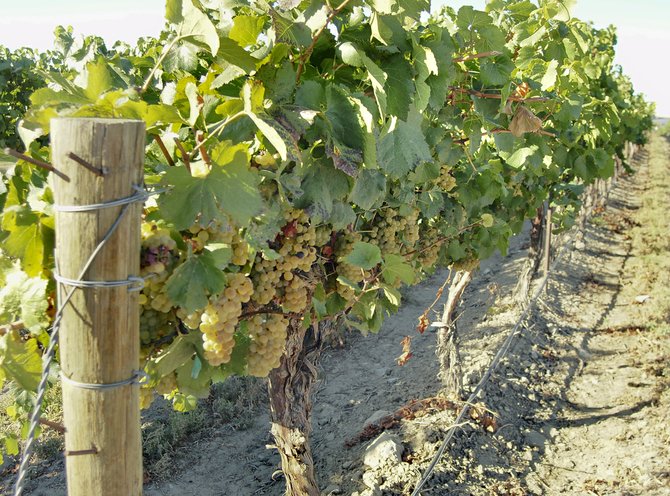 As grape harvest begins in the Yakima Valley, so does the anticipation of harvest, the most spectacular time of the year in the region.
Experience harvest with the experts during the annual "Catch the Crush" this Saturday and Sunday, Oct. 12-13.
Nearly 40 wineries will welcome guests touring vineyards, enjoying the harvest and crush activities, stomping in barrels, and wining and dining all weekend long.
Wine Yakima Valley offers the most economical way to experience Catch the Crush with the premier pass at the cost of $30.
Premier pass holders have the opportunity to indulge in exclusive events while also receiving discounts and waived fees on tastings, experiences and wine purchases all weekend long.
Wine enthusiasts can soak up knowledge, partake in the harvest or relax with winemaker dinners and crush parties.
From downtown Yakima tasting rooms to rural Zillah, laid-back Prosser and the rich soil of the Red Mountain AVA, premier pass holders can stop at nearly 40 wineries along the valley, conveniently accessed along Interstate 82.
The Yakima Valley Appellation is proudly celebrating its 30th anniversary as the oldest and most diverse wine growing region in Washington state. Yakima Valley is the backbone of the Washington state wine industry. It was the first appellation to be established here, and it remains the most significant.
Yakima Valley vineyards supply half of Washington's wine production, and they are the source of this state's best wines. 
Learn more at http://wineyakimavalley.org.
Wineries participating in Catch the Crush weekend include:
● Tapteil Vineyard Winery — Stomp grapes at Tapteil Vineyard Winery while enjoying a sweeping panoramic view of the Red Mountain AVA and the entire Yakima River Valley from this hilltop terrace.
This is a photo opportunity straight out of "I Love Lucy," complete with a grapevine crown. Bring a camera and a picnic lunch.
Taste estate-grown wines and imported olive oil, as well as vinegars in the tasting room.
Winemaker and grape grower Larry Pearson and label artist Jane Pearson will be on hand to chat during the visit.
A $5 tasting fee will be waived for premier pass holders.
● Steppe Cellars — Premier pass holders will be able to taste Steppe Cellars' Federweisser (the newly fermenting white wine) as well as its reserve wines, without paying the reserve tasting fee.
Pass holders will also be able to purchase a slice of the Zwiebelkuchen throughout the day.
This combination of the new wine and the onion tart is a German harvest tradition, which Steppe Cellars has had since its first crush.
In addition, premier pass holders will get a $5 discount on the winery's "Harvest Dinner" tickets.
The dinner will include a first course of the Federweisser and Zwiebelkuchen, as well as a sampling of some of the season's ripe wine grapes.
Each of the courses during the dinner will be made with an emphasis on fresh local ingredients and carefully paired with Steppe wine.
● Wineglass Cellars — Complimentary tastes of wine, including a 2001 Rich Harvest from Wineglass Cellars' library (a limited number available for purchase).
Reserve wine tasting fees will be waived for premier pass holders.
Special event pricing will be offered on new release wines of 2008 Cabernet Sauvignon and 2008 Syrah.
Blue Barn Farm will be at the winery offering samples and selling several flavors of its locally made goat cheese, including spicy and chocolate.
● J Bell Cellars & Lavender — Join J Bell Cellars and Lavender for its "Days of Harvest" party.
Included will be live music, food and lots of fun.
Premier pass holders will receive tastes of the winery's limited release blend "Mr. Dyer."
● Desert Wind Winery — The tasting fee will be waived for premier pass holders, and they will have an opportunity to try a library wine. Premier pass holders will also get to participate in a 30-minute educational tasting class, comparing a barrel or tank sample with a bottled current release and a library wine all of the same varietal. That class will only be offered on Saturday, Oct. 12, at noon and at 3 p.m.
Premier pass holders will also receive a 10 percent dining discount in the Mojave restaurant at the winery on Friday, Saturday and Sunday, Oct. 11-13, if they present their pass to their server prior to check-out.