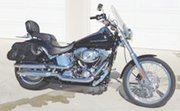 PROSSER - Walter Clore Wine & Culinary Center is celebrating the Yakima Valley AVA with "Sips of History" and is hosting a biker rally next month.
The rally will take place on Friday, Nov. 1, from 6 to 9 p.m.
There will be a raffle for a 2000 Harley-Davidson "Millennium Edition" Softtail Deuce motorcycle, with just 1,800 original miles, during the rally.
Just 300 raffle tickets are available. Tickets are $100 and are available by calling the Clore Center at 509-786-1000.
Those who attend the rally are encouraged to keep the Halloween fun going and attend the rally dressed in biker gear.
Beer and wine will be available for purchase.
To celebrate the Yakima Valley AVA and its 30-year history, the Clore Center will host a "Sips of History" event on Thursday, Nov. 21.
The center has partnered with Wine Yakima Valley and Yakima Valley Community College to provide the Sips of History event.
The public is invited to reflect on the Yakima Valley's journey to become the first AVA in Washington and to sample the wines that make Yakima Valley exceptional.
Guest speakers at the event will include Kerry Shiels, winemaker, Cote Bonneville; Dr. Wade Wolfe, winemaker, Thurston Wolfe; J.J. Compeau, general manager, Kestrel Vintners; and Kay Simon, winemaker, Chinook Wines.
The Nov. 21 celebration will take place from 6 to 8 p.m. at the Walter Clore Vineyard Pavilion, located at 2140 Wine Country Rd. in Prosser.
The cost to attend the event is $35. There are a limited number of tickets available.
The registration deadline is Friday, Nov. 15.
Those attending must be 21 or older.
Call 509-786-1000 for more information.