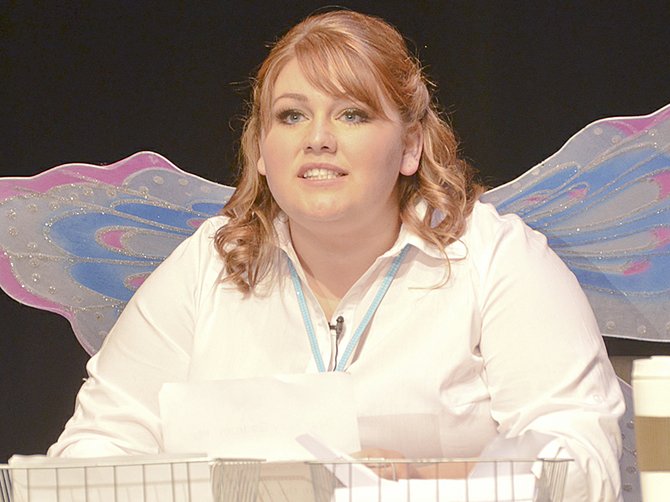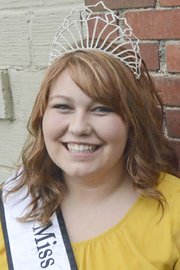 She has only been Miss Sunnyside for a week, but Alyson Spidle is excited about what the future holds for her and the 2013-14 court.
She said she has been friends with first princess Ashley Davis, second princess Tiana Perez and third princess Leah Diddens since they were young.
"It's really exciting," said Spidle.
What she is most looking forward to is completing her community service project.
Inspired by her cousin, Matt, Spidle is planning to work with the Special Olympians to develop a performing arts program.
She plans to work directly with Tina Peabody, a Sunnyside High School teacher and local Special Olympics coordinator, to find a storyline that those with special needs can perform.
"I want a storyline that they are familiar with that can be adapted to the different gifts of those with special needs possess," said Spidle.
She is hoping to inspire the participants and caretakers, showing those who have disabilities are capable of developing new skills. She said the performing arts may be a way in which the participants can express themselves.
"Drama productions can be intense, so it's best to choose a familiar storyline. Being involved in something familiar eases the process and they can become part of the process," said Spidle.
Not yet certain how the individual roles will be chosen, Spidle said she wants everyone to have an opportunity to make the production possible. She said she plans to hold a "set day," giving everyone who chooses to take part an opportunity to design the set for the production.
"We will have pizza and paint sets," said Spidle, stating it will take a coordinated effort.
She would also like the newly crowned Miss Sunnyside court to volunteer during the Special Olympics' sporting competitions.
"If you have the opportunity to do more, why not?" Spidle said.
The 2013-14 Miss Sunnyside has been dreaming of the opportunity to show the community how proud she is to live here since she was young.
She said a Miss Sunnyside court visited her kindergarten classroom one day.
"I was practicing writing my name and in walked a group of girls wearing crowns," Spidle remembers.
She said she was intrigued and over the years she became more interested in what the Miss Sunnyside court represents.
Spidle gained a greater understanding of what the speeches and the community service project meant. She grew to understand why the members of the court were in the newspaper so often, and she understood better why the Miss Sunnyside Pageant was important.
"I went to all the pageants with my grandmother…we would sit there with pens and discuss which candidates impressed us," said Spidle.
As she learned more about the role of Miss Sunnyside she became more interested in being the one to wear the crown.
"I felt I could contribute to the community," said Spidle, who learned just this year she is the fourth member of her family to serve on the court. Her mother's cousin and two great-aunts were on the court at one time.
But, Spidle's journey to being named Miss Sunnyside was uniquely hers.
She said she signed up as a candidate last spring and was among the 30 or so young ladies in line to become candidates.
"The first 15 to sign up become candidates, so there is a line and we race to the counseling office," said Spidle, stating officials at Sunnyside High School anticipate the mob and arrange a path, clearing the way.
"It's quite funny," said Spidle, stating she was among the first 15 to sign up and believed she only needed to be herself to get selected to the court.
Practices began a few weeks later, every Monday leading up to the pageant.
"I missed the first practice because I was in San Antonio with my youth group…I was disappointed to miss it because I couldn't 'facetime' with any of the other candidates," said Spidle.
At the second practice the candidates had to have a prepared community service statement and learned to walk.
"It was the first time I willingly wore high heels," Spidle said, stating she owned high heeled shoes that she couldn't bring herself to wear after trying them on.
It was by the third or fourth practice that each of the candidates had to identify what they would do on stage during the talent segment of the pageant.
"My mom helped me write my monologue…she came up with the Taylor Swift line," said Spidle, stating she chose a monologue about a fairy godmother dealing with budget cuts and ridiculous requests.
The "Taylor Swift line" was the response to a young girl asking to be matched with the singer's former boyfriend. "Who wants Taylor Swift's leftovers," Spidle quipped during the monologue.
This past summer the candidates were interviewed, rode in the Yakima Valley Fair Parade, hosted a Princess prep camp, assisted with a community blood drive and continued to practice, practice, practice.
Spidle said the candidates got their first taste of what it is like to be a member of royalty when they participated in a royalty luncheon hosted by the Miss Grandview court.
"They really were welcoming," said Spidle.
She said the magical day drew closer as the months passed and the week of the pageant was a whirlwind of activity.
"We had three dress rehearsals," Spidle said, stating the rehearsals were in addition to homecoming activities.
"You had to be careful not to overstress your voice before the pageant," she said.
On the day of the pageant another candidate asked Spidle to pray for the group before they took to the stage. "That was my favorite part of the day," she said.
"Every single girl that ran for Miss Sunnyside is a sweetheart and an amazing person."
When her name was finally called, Spidle said she was surprised.
"It's fun to say I'm Miss Sunnyside…the community support is overwhelming," she said, stating she is looking forward to serving others in her new role.