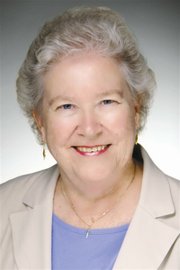 I am grateful for the opportunity to speak directly to the citizens of Sunnyside and to make the case for why I deserve your vote for the Sunnyside School Board.
Education has been both a vocation and passion of mine for much of my life. I spent many years as a school teacher and as a principal. I have taught as a professor of education at both Fort Wright College and Heritage University, of which I was a founding faculty member. I served previously on the Toppenish School board, so I am already aware of the duties and responsibilities of a school board member. I have volunteered on Sunnyside School District committees and have tutored in our grade schools.
I am also the founder of Nuestra Casa, an organization dedicated to the education of adults in our community. I believe that my extensive background in education puts me in a unique position to contribute to progress and improvement in Sunnyside Schools.
There has been progress in Sunnyside Schools in the past few years. Above all, I applaud the increased graduation rate, because education is the gateway to opportunity in society. Even so, I know there are things we can do to increase student success for all children.
We need to have high standards for our students, whether they are highly capable, those with special needs, or anyone else who attends schools here. Our schools should be a place where children are challenged at all levels.
We need to encourage and facilitate meaningful family involvement in our children's education. Research shows that when parents are engaged with their children in the educational process, the child's chance for success improves.
Finally, we must put our resources where they will do the most good. We do not have unlimited funds, so we need to prioritize. With the challenges in today's classrooms, our funding priorities must focus directly on the classroom first. We have some excellent teachers that are doing great things, but we should provide the materials and parapro support they need to be successful teaching our children.
Finally, all school employees who have direct contact with our students…be they bus drivers, parapros, custodians, principals, cooks, librarians or teachers…contribute positively to our students' educational success.
My goal as a school board member is to help our students get a good, well-rounded public education, one that will allow them to provide for themselves and their families, and to make a positive contribution to the communities in which they live.
I ask for your vote to help accomplish this.