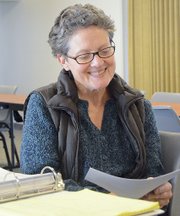 At yesterday's public hearing on the current five-year plan, Sunnyside Housing Authority Director Keitha Kimbrough said the agency is gearing up to make some changes in the next plan.
"The housing authority is in year four of its five-year plan," she said.
Kimbrough said the objectives of the housing authority have been broadened over the years, because of flexibility in how Department of Housing and Urban Development (HUD) grant funding can be used.
In 2009, the Sunnyside Housing Authority prepared a detailed list of capital improvement projects to be completed by the end of the five years.
That year, however, the housing authority received nearly $200,000 in funds from HUD. The money received in subsequent years has decreased by approximately $50,000, said Kimbrough.
She said the housing authority, given its broader scope of objectives, has emphasized safety at its developments. Some of the HUD funding secured since the five-year plan was adopted in 2009 has been used to pay for the contract with the city of Sunnyside for a law enforcement officer patrolling the housing authority properties.
Just recently there was the discovery of tenants in two of the housing authority's units on Federal Way using or manufacturing methamphetamine.
Kimbrough said the clean-up of the eight units affected will dip into the housing authority's bottom financial line.
That's because the insurance pool, just prior to the discovery of the methamphetamine contamination, decided drug contamination would not be covered by insurance, according to Kimbrough.
She said the housing authority is in the process of hiring a firm that specializes in decontamination and clean-up.
When asked by the Daily Sun News about capital projects that were included in the five-year plan adopted in 2009, she said surveillance cameras have not been installed at each of the housing authority's properties.
"We set up a system here (Federal Way), but our experience has made it difficult to manage," said Kimbrough.
She said the housing authority has been reluctant to set up surveillance camera systems on other properties because of squirrels, which have chewed through wiring.
Kimbrough also noted the replacement of 60 water heaters at the Federal Way complex has not been completed, nor has the replacement of counters and cabinetry in 22 units.
"Some of our residents didn't feel new cabinets were necessary," she said.
The original plan included approximately $1.3 million in capital improvements.
Landscaping at many of the properties, Kimbrough said, has been completed.
It was also revealed Wednesday that HUD budget cuts that were anticipated in 2013 were not realized.
Kimbrough said the local housing authority received $2,500 more from HUD this year than it did in 2012.