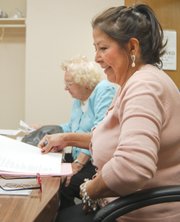 The Sunnyside Board of Parks and Recreation met Wednesday night and discussed a variety of topics, including proposed activities for next year and pool revenues from this year.
The meeting started off with the announcement that city parks will be closing for the season on Thursday, Oct. 31.
Sunnyside Parks and Recreation Coordinator Megan Razey presented a tentative schedule of proposed activities for 2014, including movie nights, and various sporting and special events.
Razey is proposing a Dive in Movie at the pool that will allow families to swim while enjoying a movie on a screen set up on the pool deck.
Razey also suggested having a pirate day in August, recruiting city officials to "walk the plank" into the pool during the community event. The proposal was met with enthusiasm.
Razey also wants to bring back community movie nights, starting with events held in the community center and moving to Central Park when the weather is warmer.
Sports programs proposed by Razey include flag football, tee-ball, baseball, soccer and basketball.
Anna Bullock, human resources and payroll officer, gave a short presentation on the city pool. She said scheduling was a scramble at times, but the revenues were higher than expected.
"Compared to last year, we did pretty good," she said.
The city spent just more than $103,000 on pool operations this year while bringing in revenues of $51,200. The city had budgeted $142,600 in expenditures and $60,500 in revenue for 2013.