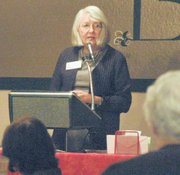 PROSSER – Betty Barnett, the featured speaker for the Lower Valley Christian Womens Connection luncheon this past Tuesday, seemingly had it all growing up in 1950s Southern California. She had a ton of friends, wore all the right clothes and her family was wealthy.
Barnett's parents sent her to an expensive private college, making her the third generation in her family to do so.
It was all going so well, but it all went so wrong when at the age of 20 she suffered her first bout of depression.
It became so bad that school officials called her parents to have her sent home.
She spent a year in counseling and went back to college, only to get sent home again because of depression that made it difficult for her to even get out of bed.
Barnett finally found relief when she was institutionalized and went through shock therapy. The move paid off as she was able to recover from her depression and complete her college studies.
She told those attending Tuesday's luncheon gathering that it was also at about that time she began to learn about Jesus Christ. Though as a youth her family went to church, Barnett said that particular congregation taught there wasn't sin and spoke little about Jesus.
That changed when she dated a young man who was a seminary student. While she didn't hear from him for awhile after that date, he asked one of her girlfriends to share about Jesus.
Barnett said she decided to give her life to Christ and later she and the seminary student were married. This past year they celebrated their 50th wedding anniversary. The couple calls the Seattle area home.
Still, not everything went well for Barnett. In fact, just five years ago she suffered a relapse of her depression – which she learned runs genetically in her family – and was admitted into a seven-week medical program at the University of Washington.
Unable to give her any more shock treatments, the officials in the UW program were able to find a combination of medications that would ease her depression.
It's all a lesson, Barnett says, that just because a person follows Christ doesn't mean they won't have difficulties in life.
As an example, she says there are no guarantees that she won't be afflicted with depression again. But she draws comfort knowing God is with her.
"I put my life into God's hands," Barnett says. "There's nothing that happens to us that He doesn't know about."