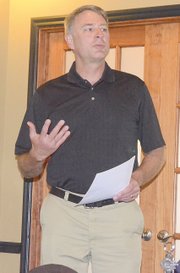 With the General Election just around the corner, members of the Sunnyside Republican Club are interested in the issues on ballots arriving in this week's mail.
Two speakers were present for this morning's (Friday) meeting, former Washington State Department of Agriculture Director Dan Newhouse and Sunnyside City Councilman Dean Broersma.
Newhouse explained why he cannot support I-522.
"Unless you've been on another planet for the past few months, you've probably heard about I-522," he said.
Newhouse said, "Everyone has a stake in the decision to be made."
He said he looked closely at the issue, and can't support the initiative because he feels it is poorly written.
There are a number of reasons he feels this way, including the fact that the labels, he said, would not be completely accurate.
"This is a consumer rights issue…the premise is good...I believe it is important to know about foods we consume," said Newhouse.
He said the problem is inconsistency in labeling. Sugar, for example, is derived from sugar beets that have a genetically modified protein. That protein, however, is removed in the refining process, said Newhouse.
He said sugar would still qualify for labeling as a genetically modified food.
On the flip side, cheese is made with a genetically engineered enzyme and does not qualify as a food that would be labeled as a genetically modified food.
The labeling itself, said Newhouse, is a warning label. "It isn't a justified warning label."
He said studies of genetically modified foods have shown them to be no different than foods that have not been genetically modified.
Newhouse said there are other ways to determine if a food has been genetically modified. "If you purchase organic food, you can be confident it hasn't been genetically modified."
He said nutrition labels already in use also contain information that indicates whether or not the food product is genetically modified.
Another problem with I-522, Newhouse said, is that the law would only apply in Washington state. "No other farmer would be required to label genetically modified foods."
He said Washington farmers would be fiscally impacted because of record-keeping requirements, regulations and liability issues.
Newhouse said he grows corn that is genetically modified. He said the practice is more ecologically friendly because he uses fewer chemicals and less fuel to produce a sustainable crop. "There are a lot of environmental benefits to genetically modified foods."
One claim proponents of I-522, that Newhouse has found to be untrue, is the financial impact to the consumer. He said the Academy of Science has studied the impact to grocery bills. That organization determined a household of four individuals will spend an annual average of $500 more if the initiative is approved by voters next month.
Consumers are also taxpayers. Because there currently isn't any regulatory process in place, Newhouse said the taxpayers will be spending more for regulation associated with I-522, as well.
"There are high emotions on both sides," Newhouse said, urging those attending the Sunnyside Republican Club meeting to decide the issue based on facts rather than emotions.
Broersma stood to speak to the attendees about the Sunnyside City Council, District 2 race.
He is running for re-election after serving on council for the past eight months.
Broersma credits his family for preparing him for the council position. "Living in a house full of girls…there's a lot of drama."
He said he chose to become a member of council with a focus on gaining better control of the city's budget and stopping "the revolving door of the city manager's office."
Broersma said, "I can't take credit for what happened more than eight months ago."
However, since he has served on the city council some changes have taken place.
There is a confidence in the current city manager, Don Day, who committed to being in Sunnyside on a long-term basis, according to Broersma.
He said the city's finance director, David Layden, has also helped the city of Sunnyside remediate some of its financial woes, including IRS penalties.
"He has helped get the city budget back on track," Broersma said of Layden.
The state, said Broersma, requires cities to have a six-month reserve fund. He believes Layden's work will help the city meet that requirement.
"I am really excited about hiring a parks and recreation coordinator," said Broersma, stating the schools have improved the graduation rates and helped to address the complex issues in Sunnyside.
"It's time the city does its part," said Broersma, stating parks and recreational opportunities will improve the quality of life for Sunnyside residents.
"Next on the agenda is hiring a new police chief," he said, stating he is pleased the police department hasn't been a hot-button item between himself and challenger Sam Ramirez.
"I feel good about the efforts of the police department in reducing crime rates," said Broersma, stating he is eager to have a police chief at the helm of the department.
"We have a lot of good people here," he said, stating he is happy Sunnyside residents feel safer now than they did a few years ago.
Jerri Honeyford spoke briefly, explaining Ramirez was invited to the meeting. "He's just really busy."
Correction: In Friday's Sunnyside Republican Club story it was written that Dan Newhouse said the Academy of Science found households consisting of four members would pay an average of $500 more annually for groceries if I-522 is approved. He said the organization has studied the impact, but it is the Washington Research Council that determined the cost of groceries would average $500 more yearly if the GMO labeling becomes a requirement.